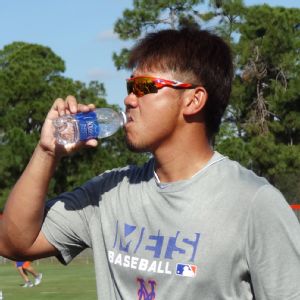 Adam Rubin
Dice-K gets a refreshment after Wednesday's warm-up.
PORT ST. LUCIE, Fla. -- After the other pitchers had completed their bullpen sessions around noon Wednesday at the Mets' spring-training complex, Daisuke Matsuzaka continued, eventually throwing 50 pitches in all.
Dice-K, likely the leading candidate for the fifth-starter's spot on the Opening Day roster, said he had a specific goal this offseason of arriving in camp ready to compete. He threw a half-dozen bullpen sessions even before arriving in Florida.
"My goal for the offseason was to come into camp ready to throw against batters," Matsuzaka said through an interpreter Wednesday afternoon. "I was able to achieve that. I think I came in ready to be able to throw against batters at this point.
"Other than that, I worked on a lot on mechanics -- just figuring things out, the use of my body.
"It's been awhile since I've been able to spend my offseason where my body was 100 percent. And therefore I was able to spend a lot of time on maintenance, treatment and training. That caused everything to, I guess, move smoother. Everything moved forward and my preparation is a lot better this offseason.
"I'm in the process of getting back to the pitcher that I think I can be," the 33-year-old Matsuzaka added. "I think I'm making steps in the right direction so far. I'm feeling it right now."