Here's a bevy of info from ESPN Stats & Information regarding the Mets' 1-0 win against the Philadelphia Phillies, in which Johan Santana took a no-hit bid into the sixth inning.
How Mets ace Johan Santana put away the Phillies: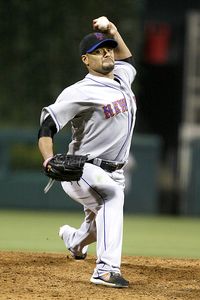 AP Photo/H. Rumph Jr.
Johan Santana tossed 7 1/3 scoreless innings and K-Rod completed the Mets major league-high 15th shutout.
- Established fastball: Threw it 64 percent of the time on the first or second pitch, locating 63 percent of them for strikes. The Phillies eventually learned. The first two times around the order, only five Phillies put one of the first two pitches in play; all made outs. After that, seven of the last 12 batters saw only one or two pitches before making contact; those included four of the five hits Santana allowed.
- Finished with changeup: Threw it 45 percent of the time when he was ahead after two pitches or more. The Phillies were 1-for-15 from the third pitch of an at-bat onward. All six strikeouts came on offspeed pitches (four changes, two sliders).
- Had only two 2-0 counts (one was to the opposing pitcher) and retired all 10 batters who got to two strikes.
Overall on the victory:
The Mets had won 1-0 in Philadelphia for first time since May 23, 2002. The Phillies had their 12-game home winning streak snapped. The Mets' win is their third in the last 12 road games. They snap a three-game losing streak at Citizens Bank Park. Jeff Francoeur's opposite-field homer knocked in the winning run. He's driven in the winning run with an opposite-field homer twice in this road trip. Raul Ibanez extended his hitting streak to 15 games. Ruben Tejada returned to Mets lineup. He went 0-for-4 and dropped to a .204 batting average, but the Mets are 15-5 when he starts at second base. The Mets blanked the Phillies for the fourth time this season, with the other three coming in a three-game sweep at Citi Field the last meeting. The last they had four in a year was 1998. The only season with more was 1969, with seven. Overall, the Mets have a major league-high 15 shutouts this season.