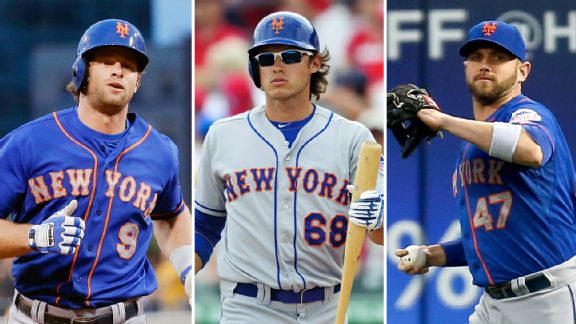 Getty Images/USA TODAY Sports
Kirk Nieuwenhuis, Matt den Dekker and Andrew Brown may comprise Las Vegas' outfield to start the season.PORT ST. LUCIE, Fla. -- Although it comes as no great surprise, Terry Collins hinted at Matt den Dekker, as well as Kirk Nieuwenhuis and Andrew Brown, opening the season in Triple-A Las Vegas' outfield, presumably along with Cesar Puello.
Den Dekker needs to play every day, according to the manager. Den Dekker hit .207 with one homer and six RBIs in 58 major-league at-bats last season. His season started on the disabled list after he broke his right wrist attempting another highlight-reel catch last spring training.
The outfield is congested anyway, with Curtis Granderson, Chris Young and Eric Young Jr. locked in and conceivably Juan Lagares and Lucas Duda also on the Opening Day roster.
"One of the things we're very lucky with, when you come into camp and you have the likes of the outfield we have right now, they're so athletic. They can all run," Collins said. "Matt is in that [group]. He is still very, very highly thought of -- a tremendous defender, as we know. One of the things you've seen in his career, he gets to a level and he may have a rough time in the beginning. And the next time he goes to that same level he advances. And we're hoping the same thing occurs now, that he now knows what's expected at the major-league level, what kind of pitching he's going to see, what adjustments he has to make.
"I think Matt den Dekker is still a huge prospect here. It gives us an ample amount of insurance."