PORT ST. LUCIE, Fla. -- David Wright is taking it relatively easy this spring training compared with a year ago. And that's not a bad thing, the third baseman suggested.
Wright arrived at camp in 2013 needing to ramp up quickly for the World Baseball Classic. He got 12 at-bats in the first week of last year's Grapefruit League schedule because he needed to prepare to represent Team USA in March.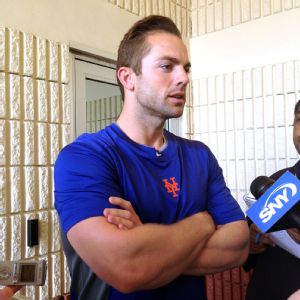 Adam Rubin
David Wright will have a much calmer pace than last spring training, when he was ramping up for the World Baseball Classic.
This time, Terry Collins said he will ease his veterans, including Wright, into Grapefruit League games to guard against injury risk.
"I've said it, and I'll say it again: I love the World Baseball Classic," Wright told ESPNNewYork.com on Saturday. "Any chance I get to be invited, I'll do everything I can to participate, because it's a blast. But obviously I prefer being able to take baby steps instead of taking monster leaps to get ready for games. I think that's beneficial for me as far as the long haul of the season as opposed to trying to get as many at-bats as I can the first week to make sure I'm ready for the World Baseball Classic.
"With that being said, again, I love the World Baseball Classic. It's not a knock against that. It's just easing into spring training will be more beneficial to getting ready for the season."
Wright earned the "Captain America" nickname during the WBC, but eventually was pulled from the tournament because of a strained intercostal muscle on his left side. He insisted Saturday that ramping up quickly for the WBC did not increase his injury odds, at least in his opinion.
"No, because I had a similar injury the year before, and I don't feel like I really ramped it up that quickly then," Wright said. "It's one of those things where it's so fickle. You take a bad swing or something and it just happens. I tore something in my abdominal the year before last. Last year I strained something in my intercostal or whatever it was. So I'm not sure you can really say that one was different than the other.
"Weird things happen, especially in spring training. You know, you can train as much as you want during the offseason. But when you come in and put your spikes on and get on the field and do that, it's a different type of movement that you just can't train for. A lot of it is just freak-type stuff."
Wright said limiting his early Grapefruit League play will allow him to do more intense workouts on the side, such as taking groundballs from infield coach Tim Teufel.
"I can't get the type of work that I want to get in if I'm playing that day," Wright said. "If I go beat myself up with groundballs and do that stuff, I probably wouldn't do that if I'm playing that day."
As for Saturday's first official full-squad workout, Wright added: "It feels like a lot of us have been down here so long, it's good to actually get rolling. There's some things that get a little tedious during spring training, but you're always excited to get out there with the full squad and look around and see who's who and where everybody is."