PORT ST. LUCIE, Fla. -- The Mets drafted catcher Kevin Plawecki with the 35th overall pick in the 2012 draft in large part because he reflected their organizational hitting philosophy.
In fact, during his final season at Purdue, Plawecki had a .445 on-base percentage while striking out only eight times in 223 at-bats.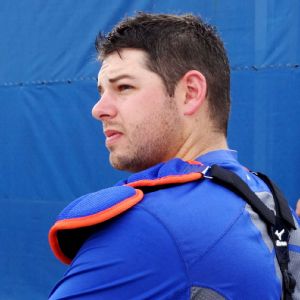 Adam Rubin
Kevin Plawecki has impressed Terry Collins so far in camp.
Plawecki, in camp as a non-roster invite, has impressed Terry Collins so far with his bat. Now, the manager is eager to see Plawecki's catching skills once Grapefruit League play begins next weekend.
"I'd like to see him catch, because just watching him in BP, he has a clue," Collins said. "He squares it up pretty good. And it's loud. So I'm real impressed with what I've seen at the plate. I'd like to see him catch and throw a little bit. You know, this guy came from a major college program. Player of the Year in the Big Ten, that's a pretty big statement."
The Mets received some criticism for leaving Plawecki at low-A Savannah so long last season, given his college experience and success. He hit .314 with a .390 on-base percentage in 65 games with the Gnats before a promotion to St. Lucie. With the Florida State League club, Plawecki hit .294 with a .391 on-base percentage in 60 games. He had eight homers and 80 RBIs between the two levels.
He caught 29 percent of would-be base stealers in 2013 (28-for-68).
"I know he hit last year," Collins said. "I know at the end of the year they put him at first base just to get him at-bats and to get him out from behind the plate because he was starting to get worn down a little. I'm going to get him in some games and see how he looks."
Collins sees Plawecki sticking behind the plate long term, too -- not shifted to first base or elsewhere.
"I think he's going to be a catcher, and I think he's going to be a good offensive catcher," Collins said. "If you can produce your own catchers, those are big.
"For years, when I was with the Dodgers in the minor leagues, we couldn't find catching. So we'd switch guys. We switched Russell Martin. We switched Carlos Santana. We were looking for guys who maybe didn't fit the stereotypical position they were playing at third. We knew they could swing the bat. We saw they had great feet, good arms, good hands. They both have become pretty good catchers."