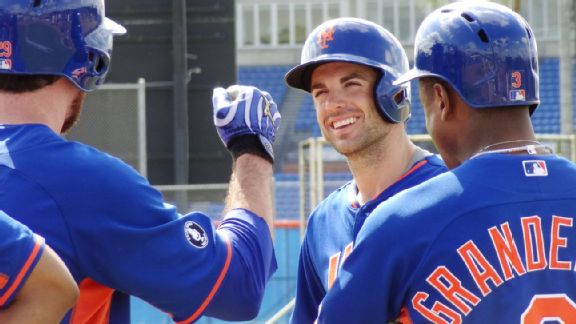 Adam Rubin
David Wright chats with Curtis Granderson and Ike Davis during Sunday's batting practice.PORT ST. LUCIE, Fla. -- David Wright likes the energy early in Mets camp, but the captain says it's premature to get a true sense of the vibe.
"It's probably too soon," Wright said. "It's tough to get an overall vibe until you start narrowing things down a little bit. Spring training is so different than the regular season clubhouse-wise because there's always people floating around everywhere -- players, staff, media. It's not as condensed as it is in New York. So it's tough to really get a feel for things until we start narrowing it down and start seeing who is going to win jobs and stuff like that."
Still, with a week of workouts now in the books -- at least for pitchers and catchers -- here are five early takeaways from a mellow camp:
1. Terry Collins is going to go lightly on his veterans early. Wright, Curtis Granderson and Daniel Murphy are unlikely to play the first week of the Grapefruit League season because Collins wants to ease them into games and not risk early injury. On the bullpen side, Jose Valverde and Kyle Farnsworth will be eased in, too.
2. Harvey really isn't that big a story. Matt Harvey did get attention Saturday, when he tossed a baseball for the first time since Tommy John surgery. But there really is not reason to focus on him until he gets on a mound. And that should be after the team and media break camp. The Mets have consistently -- but probably needlessly -- made a point to note that Harvey is not a story this year, since they prefer to focus on what they have and not on what they're missing.
3. Collins really, really wants EY Jr. as his leadoff hitter. Whether the front office agrees remains to be seen, but Collins has repeatedly made his preference known that Eric Young Jr. leads off this season. Of course, Collins named Collin Cowgill a starter last spring training, and that lasted all of two regular-season games. The bet is that Juan Lagares finds a way to get plenty of at-bats this season when all is said and done. Even though Chris Young is going to be an everyday player to start, it seems likely over time he will struggle against righty pitching, giving ample opportunity for Collins to use at least four outfielders with some regularity.
4. Don't rule out a spring-training trade. Ike Davis has not made it to Opening Day just yet. The Pittsburgh Pirates or Baltimore Orioles, or a team that suffers a spring-training injury, could engage the Mets. For that matter, Ruben Tejada has not made it to March 31 as the starter, either. The Seattle Mariners have an extra shortstop and are likely to make a trade before Opening Day with someone.
5. There are only a handful of competitions. The biggest roster competitions in camp, provided there are no trades that change the complexion, probably are fifth starter and the final bullpen spot. Daisuke Matsuzaka probably has the leg up over John Lannan and Jenrry Mejia for the final rotation spot, but that officially is a competition. Also unresolved: Who rounds out a seven-man bullpen that should begin with Bobby Parnell, Vic Black, Valverde, Farnsworth, Scott Rice and possibly Carlos Torres? There are plenty of candidates for those one or two spots. The 40-man roster players would probably have the leg up, including Mejia (assuming he's not the fifth starter), Josh Edgin (who would provide a second lefty), Jeurys Familia, Gonzalez Germen, Ryan Reid, Jeff Walters and even newly converted Erik Goeddel. The other question: Do Lagares and Lucas Duda end up on the roster even if non-starters? The ESPNNewYork.com bet is yes, especially since the Mets play in Anaheim the second week of the season and will use the designated hitter there.