PORT ST. LUCIE, Fla. -- The biggest cheer from the sparse crowd attending Thursday morning's intrasquad game at Tradition Field came when 6-foot-6, 230-pound Noah Syndergaard took the mound for his first inning of work.
"Oh, I heard the fans running out there," Syndergaard said. "That was kind of cool."
Pitching in a game situation for the first time in his first big-league camp, the top prospect did not disappoint.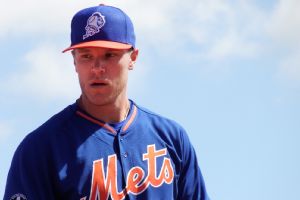 Adam Rubin
Noah Syndergaard excited the crowd in Thursday's intrasquad game.
He opened his appearance by striking out 2011 first-round pick Brandon Nimmo with a wicked curveball -- the pitch Terry Collins recently had labeled a "hook from hell." After then allowing a single to Double-A teammate Danny Muno, Syndergaard struck out Brandon Allen and Anthony Recker, too -- Recker waving at another of those curveballs, down and out of the strike zone.
Syndergaard's final line: 2 IP, 4 H, 1 R, 1 ER, 0 BB, 5 K.
Cory Vaughn reached on an infield single in Syndergaard's second inning and scored with two outs on consecutive two-out singles to right field by Kevin Plawecki and Wilfredo Tovar. Syndergaard left a curveball up to Tovar for the opposite-field hit -- one of his few mistakes with that hook.
He threw only one changeup, but said that pitch has improved from 2013.
"I felt pretty good out there. I kind of shocked myself a little bit," said Syndergaard, whose fastball sat at 96-97 mph. "I wasn't expecting that my first time out there."
Nimmo, who had faced Syndergaard in live batting practice days earlier, this time stepped into the batter's box and marveled at the top prospect's presence.
"You just notice he's different than the other guys," Nimmo said.
After the game, Nimmo was telling locker neighbor Logan Verrett that Syndergaard is so big, when he lets go of the ball, he appears on top of the batter, leaving little time to react.
Recker, Nimmo and Terry Collins all used the same word -- "nasty" to describe Syndergaard's curveball.
"I was just telling him," Nimmo said, motioning toward Verrett, "that just him being up on the mound, he feels like he's only 48 feet away. He's just huge up there. And he even had more giddy-up today than he did on the back field, which is understandable. You get a little more adrenaline on the big field.
"He was working low, too. He really has some good stuff going for him. But, like I said, he's so huge up there. It's already a short distance. He makes it feel shorter."
Syndergaard next pitches Monday, when he starts against the Atlanta Braves at ESPN's Wide World of Sports. His parents, who last year drove with him for 18-plus hours from Texas for his first spring training as a Met, this time will meet him at Disney to take in some spring training.
"I didn't think I was going to get the start, first of all," Syndergaard said about facing Atlanta. "I'm excited, a little nervous at the same time. It's the first time facing a real big-league lineup. I'm going to go out there and do what I can. It's still a game. They're still playing baseball out there."
The hits Syndergaard surrendered Thursday came when he fell behind in the count. He said he should be more at liberty to throw inside against the Braves, which should help in that respect.
"I wasn't able to go inside as much as I wanted to," Syndergaard said. "It's a little difficult playing against your own team. You don't really want to hit the guy. It might be a little different when I'm playing the Braves the next time out."
Syndergaard paused, then clarified his remark.
"Not that I want to hit them or anything," he added. "But it's going to be easier to go inside."
Collins already sounds tempted to take Syndergaard north with the big-league club for the season, although that is highly unlikely. The Mets are expected to wait until at least mid-June for business reasons, as they did with Zack Wheeler last season.
"How can you not like what you saw?" Collins said. "For heaven's sake, I don't know how hard he threw, but it was firm. Even in a game like this, you better get to the heater, because you don't want to try to hit that curveball -- right now especially. …
"Certainly everything you heard, you saw. You heard, 'What a great arm.' You got it. You heard, 'He's got a great presence,' that he pounds the strike zone. He did that.
"There's going to be some discussion about him as we get into this camp, because he's going to light some eyes up. There's no question about that."