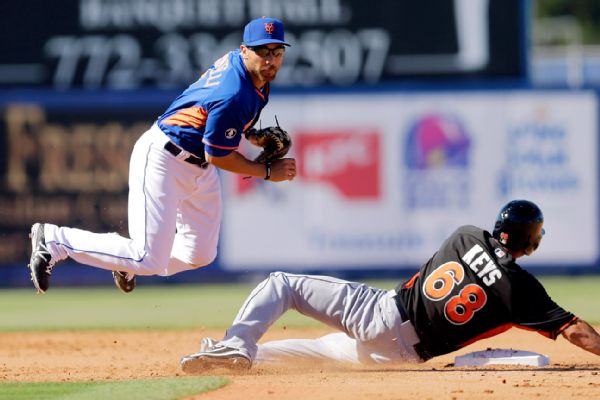 Jeff Roberson/Associated Press
Anthony Seratelli turns a sixth-inning double play during the Mets' 9-1 loss to the Marlins on Saturday.PORT ST. LUCIE, Fla. -- Fifth-starter contender John Lannan tossed two scoreless innings and Lucas Duda homered, but the Mets dropped their second straight game to open Grapefruit League play, with a 9-1 loss to the Miami Marlins on Saturday afternoon at Tradition Field.
Kyle Farnsworth, trying to prove he warrants a spot as a late-inning reliever, had a rough Mets debut. Farnsworth surrendered a solo homer to Austin Barnes on a slider and sat at only 86-88 mph with his fastball, while touching 92 mph once.
Scott Rice, who may be the lone lefty reliever the Mets carry to start the season, tossed a perfect inning and struck out Derek Dietrich, the lone lefty he faced.
Fellow southpaw Josh Edgin surrendered five runs in the sixth, although two were unearned thanks to Duda's error trying to pull a grounder at first base out of his glove and an errant throw from Matt den Dekker in left field to the plate. One scout, while acknowledging it was early in spring training, wondered what happened to the life on Edgin's pitches, noting his fastball velocity used to be 95 mph with a sharp slider.
Prospect Cory Mazzoni walked consecutive batters to open the eighth, but stranded both in scoring position in a scoreless frame. Mazzoni benefited from third baseman Dustin Lawley racing into foul territory down the left-field line to corral a pop fly.
Terry Collins complimented Vic Black's ninth-inning effort, although Black surrendered two hits, a walk and an unearned run. Second baseman Danny Muno's two-out error prolonged the inning and contributed to that run -- the ninth by the Marlins on the afternoon.
Aside from Duda's homer against right-hander Arquimedes Caminero, the Mets mustered only three other hits in the game -- singles by Chris Young, Kirk Nieuwenhuis and den Dekker.
What's next: Daisuke Matsuzaka opposes right-hander Michael Wacha as the Mets travel to Jupiter to face the St. Louis Cardinals. Eric Young Jr. is on the travel list for the game after missing the opening two games with a side-muscle issue. Also listed to pitch: Jeurys Familia, Jose Valverde, Steven Matz, Carlos Torres, Joel Carreño and Jack Leathersich.