PORT ST. LUCIE, Fla. -- Long Island native John Lannan's Mets debut was meaningful for a different reason. Saturday's Grapefruit League game against the Miami Marlins marked the southpaw's first game action since last Aug. 14 with the Philadelphia Phillies, after which Lannan underwent surgery to repair a tendon that links the thigh muscles to the knee in his left leg.
"I was just grateful to be back out there and feel pretty good," Lannan said.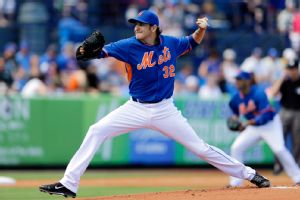 Adam Rubin
John Lannan tossed two scoreless innings Saturday.
Lannan, a fifth-starter contender, tossed a perfect first inning, striking out Jake Marisnick and Christian Yelich to begin his outing. He surrendered three hard-hit balls in the second inning, but the only hit came on a one-out double by Derek Dietrich.
Lannan's fine line in the Mets' 9-1 loss: 2 IP, 1 H, 0 R, 0 ER, 0 BB, 3 K.
In reality, Daisuke Matsuzaka is likely the favorite for the final rotation spot behind Jonathon Niese, Bartolo Colon, Dillon Gee and Zack Wheeler. Jenrry Mejia may very well be ahead of Lannan in the pecking order, too.
But Saturday had Lannan reflecting on last season, when his left leg instability finally forced him to cut short his season and undergo Aug. 28 surgery to repair a 60 percent tear of a tendon that connects what is known as the vastus medialis and other muscles as they enter the knee.
After the surgery, Lannan needed to keep the knee straight for three weeks. He then had to wear a brace for another six weeks.
Lannan, 29, had been bothered with pain for years while pitching for the Washington Nationals, but never had an MRI of the area because doctors did stability tests by hand and determined everything seemed sound. He simply was diagnosed with tendinitis.
"I was still pitching," said Lannan, who went 10-13 with a 3.70 ERA in 33 starts for the Nats in 2011. "I was still pitching pretty well."
In his third start last year for the Phillies, however, the issue intensified. With his knee mobility limited, Lannan said his mechanics changed and he had less life on his fastball.
The data reflects that: Lannan's fastball last season averaged 87.8 mph. The previous season with the Nats it averaged 89.4 mph.
He said he feels lucky he did not hurt his pitching shoulder with the mechanics he altered to compensate for the leg issue.
Lannan knew his 2013 season was done Aug. 14 at Atlanta, when he pulled himself from a game in which he allowed a first-inning homer to Jason Heyward.
"It just didn't feel right," Lannan said. "... It was my last try at trying to get through it, and it just didn't go as planned. It was a low point in my career."
Now, he has signed on a minor-league deal with the Mets and feels things are headed back in the right direction.
"It's feeling pretty good so far," Lannan said.