PORT ST. LUCIE, Fla. -- Matt Koch, the organization's third-round pick in 2012 out of Louisville, took a big step Saturday on a back field at the Mets' complex.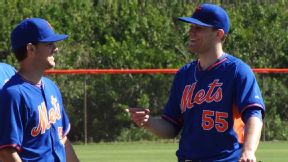 Adam Rubin
Matt Koch receives congratulations after facing batters Saturday.
Koch threw batting practice, marking his first time facing hitters since the 6-foot-3 right-hander was struck in the head with a line drive while pitching for low-A Savannah last Aug. 2. He was hospitalized for three days after the incident, suffering from bruising on the brain.
"Nice to finally face hitters again. It was too long of a wait," tweeted Koch (pronounced "Cook").
Koch, 23, went 6-4 with a 4.70 ERA in 18 appearances (15 starts) for Savannah before the season-ending injury last year.
This was the scene last Aug. 2 after Koch was struck ...
Look of concern on face of #Drive's Mario Martinez sums up how scary it was when @gnatsbaseball Matt Koch was hit pic.twitter.com/0rFMiEyQXE

— Eric Jarinko (@ericsjarinko) August 3, 2013