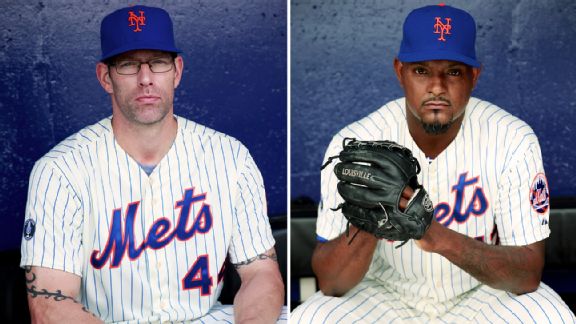 Getty Images
The Mets hope Kyle Farnsworth and Jose Valverde can duplicate what LaTroy Hawkins did in 2013, but first they have to make the team.PORT ST. LUCIE, Fla. -- Terry Collins wants Jose Valverde and Kyle Farnsworth to serve as late-inning relievers leading into Bobby Parnell. But neither has made the team just yet.
After all, both veteran pitchers were released by clubs during last season, so there clearly is something they have to prove.
Valverde did not awe scouts in Thursday's intrasquad appearance, despite tossing a scoreless frame.
Farnsworth was less inspiring Saturday. He allowed a solo homer on a slider to Austin Barnes while sitting at only 86-88 mph with his fastball.
Granted, it's early, but Farnsworth's fastball velocity has steadily diminished in recent years. It averaged 96.0 mph in 2009, 94.9 in 2010, 94.7 in 2011, 93.2 in 2012 and 92.6 last year.
Farnsworth, 37, reportedly has a March 23 out if he will not be added to the big-league roster. Valverde, 35, reportedly has the same out on March 26.
"We're going to stick with them quite a while," Terry Collins said after Saturday's 9-1 loss to the Miami Marlins. "We don't want to get too caught up early in camp, if they have a rough outing, because they're veteran guys that may take their time to really get themselves in game shape.
"We signed them for a reason. Obviously, Jose was if not the best closer, one of the best closers in the American League just a couple of years ago. He had a rough year last year. He pitched an awful lot the two years previous. So maybe last year having a year where he didn't pitch a lot of innings (33 1/3 IP between majors and minors) might help him this year."