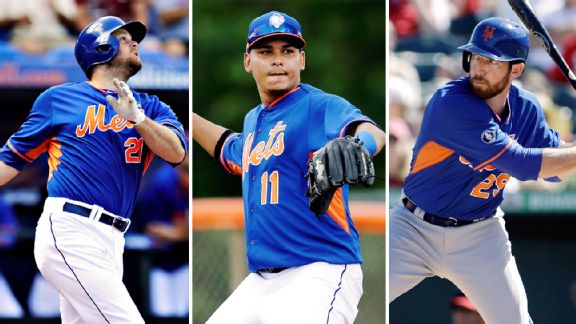 Associated Press
Lucas Duda, Ruben Tejada and Ike Davis -- three players who need to prove themselves this spring training -- all continue to deal with leg injuries that originally were considered minor.PORT ST. LUCIE, Fla. -- Terry Collins expressed surprise Tuesday that leg injuries are lingering with Ike Davis, Lucas Duda and Ruben Tejada.
A day after departing a game at Disney with a left hamstring issue, Collins said Duda felt "really sore" Tuesday.
Meanwhile, Davis (calves) and Tejada (left hamstring) now will return to the lineup no sooner than Friday, according to the manager.
Injuries have piled up early in camp.
Jonathon Niese had to be dispatched to New York last week for an MRI of his pitching shoulder, although doctors have concluded that the southpaw merely had weakness in muscles in the scapula area in the back of the shoulder.
Niese, along with Bartolo Colon (calf) and Bobby Parnell (quadriceps), now are scheduled to have their first game-type situations of spring training Thursday at 11 a.m. on a back field at the Mets' complex. Originally, the trio was due to play in a 10 a.m. "B" game in Kissimmee, Fla. that day against the Houston Astros, but Collins decided to spare them an early morning bus trip.
Pitching coach Dan Warthen expects Colon will throw three innings, Niese two innings and Parnell one inning against Mets minor leaguers in what should be a game that lasts no longer than three innings.
Collins on Tuesday even left open the possibility of Zack Wheeler starting Opening Day. But the manager clarified that to say that Niese is his preference and expected to be ready. ESPNNewYork.com has reported that the Mets' planned rotation order for the season is Niese on Opening Day, followed by Colon and Dillon Gee against the Washington Nationals. Then Wheeler would open the second series, against the Cincinnati Reds.
"With our situation right now," Collins dryly said about Wheeler, and alluding to the widespread injuries, "he may be our Opening Day starter."