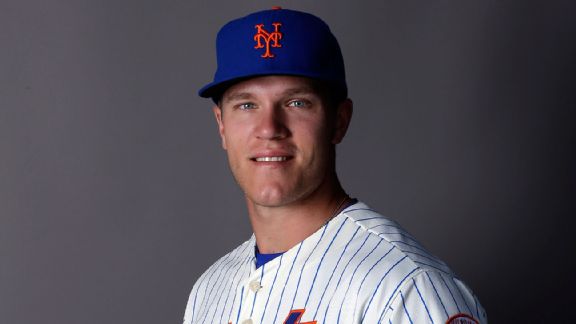 Jeff Roberson/Associated Press
Noah Syndergaard faces the Detroit Tigers on Saturday in Lakeland, Fla.PORT ST. LUCIE, Fla.
FIRST PITCH: It's Noah Syndergaard Day!
Coming off a performance against the Atlanta Braves in which he tossed two scoreless innings and blew three straight fastballs by Evan Gattis, Syndergaard gets on the early bus to Lakeland, Fla., to face the Detroit Tigers on Saturday at 1:05 p.m.
Also scheduled to pitch for the Mets: Joel Carrreño, John Church, Jacob deGrom, Gonzalez Germen, Adam Kolarek and Jeff Walters. (See the full travel list here.)
Left-hander Drew Smyly is due to start for the Tigers.
Saturday's news reports:
• David Wright made his 2014 Grapefruit League debut Friday, going 0-for-3 and grounding into a double play against the St. Louis Cardinals. Wilmer Flores and Eric Campbell had consecutive two-out RBI singles in the bottom of the ninth to pull the Mets even in what ended in a 5-all tie.
Daniel Murphy initially appeared to injure himself on an aggressive slide into second base, but indicated afterward he merely suffered a scraped right shin. Ruben Tejada, in his first game since returning from a hamstring injury, looked shaky in the field with three misplays, including one charged as an error. Murphy and Andrew Brown also committed errors.
Read recaps of Wright's exhibition debut and Friday's Grapefruit League result in the Journal, Star-Ledger, Record, Newsday and MLB.com.
• Columnist Kevin Kernan in the Post was not impressed with the Mets' fielding Friday. Writes Kernan:
Tejada, who has had a hamstring issue cost him a week of playing time, did not move well on Friday and continues to be a major problem for the Mets. Stephen Drew's value appears to be rising, but the Mets seemingly are not going to go there as Scott Boras' shortstop remains on ice.
• The Mets got their first taste of instant replay Friday. Terry Collins said he would be aggressive challenging during the season because the media scrutiny would be intense if a big inning occurred after a close call went unchallenged. Read more in the Times, Post, Daily News, Newsday, Record and Star-Ledger.
• Terry Collins affirmed postgame that Flores will get a start at shortstop early next week.
• Bobby Parnell and Bartolo Colon both officially are listed to make their 2014 Grapefruit League debuts Monday.
• Mike Piazza completed his week as a guest instructor. Travis d'Arnaud tells Mike Puma in the Post the message from Piazza to him mostly was about mental approach at the plate. "Just taking your hits -- not trying to pull off and hit a home run every time," d'Arnaud said about what Piazza imparted. "When things go bad, just go back to the basics, wait for your pitch and just make good contact."
• Seth Everett officially has been named the pregame and postgame host for Mets radio broadcasts on WOR.
• Marty Noble at MLB.com writes about Triple-A pitching coach Frank Viola advocating the changeup as a weapon in a pitching arsenal.
• Wright tells the Daily News he is pleased Curtis Granderson will hit behind him.
The Cardinals, incidentally, played a pronounced shift on Granderson on Friday. Asked if he had seen that defensive alignment much in recent years, Granderson said: "It's a mix. Some teams do. Some won't."
• From the bloggers … Faith and Fear reflects on the fleeting moment in 2012 when the Mets rotation included R.A. Dickey, Matt Harvey and Johan Santana, and how none of them is part of the team's 2014 plans. … John Delcos at Mets Report writes about the easing in of Wright into games this spring training.
BIRTHDAYS: Willard Hunter, who pitched for the original '62 Mets, was born on this date in 1934 in Newark, N.J.
TWEET OF THE DAY:
Carmen Berra, wife of former #Mets Manager Yogi Berra passed away today. Our deepest condolences to the Berra family. pic.twitter.com/PgYmT7pu0Q

— New York Mets (@Mets) March 8, 2014
YOU'RE UP: Will Noah Syndergaard dominate the Tigers like he did the Braves?