LAKELAND, Fla. -- Noah Syndergaard has been nicknamed Thor, after the mythological Norse god of thunder and lightning, by his rapidly growing fan base. Saturday, in his second Grapefruit League start, the top prospect proved mortal.
The 21-year-old Syndergaard struggled to throw his fastball for strikes -- albeit narrowly -- in the second inning and did not receive help behind him at a critical time. He ultimately was charged with two runs on two hits while striking out three and walking three in three innings against the Detroit Tigers at Joker Marchant Stadium. He threw 52 pitches (31 strikes) in what became a 3-2 win.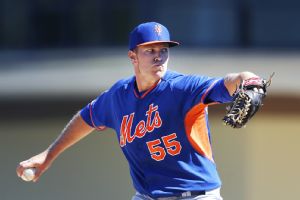 Carlos Osorio/Associated Press
Noah Syndergaard walked three batters in three innings Saturday.After limiting the Atlanta Braves to one hit in two walk-free, scoreless innings Monday at Disney, this time Syndergaard again possessed a fastball that ranged from 94-97 mph. But he walked Don Kelly on five pitches to lead off the second inning and then Daniel Fields two batters later.
That's when Syndergaard's fielders let him down. After big jumps allowed Kelly and Fields to successfully double-steal on a strikeout of Bryan Holaday, Steve Lombardozzi followed with a two-out ground ball to second base.
Eric Young Jr., getting exposure to the position for the first time in 2014 Grapefruit League play, had the makeable play glance off him and into right field for what was scored a two-run single.
Young is not expected to see any time at second base this season unless Daniel Murphy suffers an injury. Still, the Mets' middle-infield defense has been underwhelming overall in recent days. On Friday against the St. Louis Cardinals, Murphy committed an error at second base and Ruben Tejada had three misplays at shortstop, one of which was scored an error.
"It's a speed guy, so you try to cheat in a little bit on him," Young said about Saturday's critical grounder by Lombardozzi. "Obviously the more repetitions out there, you get a better comfort level, and more times than not I make that play."
Syndergaard nonetheless was relatively pleased with his performance.
He acknowledged throwing a high percentage of fastballs in the second inning. But catcher Taylor Teagarden (who likened Syndergaard's mound presence to that of former closer Robb Nen) indicated he called fastballs because runners were on base and he wanted Syndergaard to challenge the Tigers with his best pitch.
After that frame, though, pitching coach Dan Warthen implored Syndergaard to diversify his repertoire.
"I think he got a little frustrated with me because I had only thrown one changeup," Syndergaard said. "And that's something I really need to work on to make the next step to the big leagues -- being able to locate my changeup, and being able to also work behind in counts. Just be a little bit more unpredictable -- not so fastball-oriented. If you're not throwing the changeup, or you can't throw it for a strike, then hitters can just eliminate that pitch and they're going to sit on the heater."
Syndergaard responded by mixing in changeups and curveballs in the third inning, when he issued a walk but faced the minimum thanks to a caught stealing.
"My first two innings, I was pretty fastball-dominant," Syndergaard said. "I mean, I wasn't really pitching. I was more throwing. My third inning I was mixing in a lot more off-speed pitches, kind of working backwards a little bit."
As for the second-inning walks, Syndergaard said: "I was just opening up my front side coming out of my delivery. I was just trying to do a little too much."
Syndergaard said he was "a little bit more calm" during his second career Grapefruit League start compared with the matchup with the Braves.
"I kind of got the jitters out of the way," Syndergaard said. "But it was kind of cool throwing against Torii Hunter and Ian Kinsler, guys I grew up watching."
The affable Hunter -- now 38 years old -- joked about Syndergaard admiring the outfielder as a youth.
"Oh, man, tell him: 'Don't you ever say that again,'" Hunter said with a laugh. "No, it's awesome. I'm still around and I'm still playing. That's pretty cool. I thank God for giving me my health, and that I was able to see this guy pitch who thought I was awesome when he was 3."
Hunter said he had not been aware Syndergaard was a top prospect until just before his first at-bat, when Kinsler came back to the dugout with a scouting report.
"I just watched him before me with Kinsler and [Ezequiel] Carrera," Hunter said. "Those guys, they came back and said, 'Hey, he's got a lot of late life on the fastball. Be ready.' I know this guy is a top prospect. I mean, he's not a prospect for no reason. He's pretty good."
Said Kinsler: "He looked like he belonged out there, and he threw the ball well today. ... He had really good velocity. He had a pretty good presence out there. He threw me a couple of curveballs for strikes. It was a good pitch. I don't know where he is in his development or anything like that, but he threw the ball well today."
Sandy Alderson gracefully put a wet blanket on the afternoon, though, for those hoping Syndergaard breaks camp with the team.
"If you pitch well, that's always a possibility," Alderson said about making the Opening Day roster. "But ... "
Alderson then stopped.
He eventually continued: "I'm not trying to be a bubble-burster here."