PORT ST. LUCIE, Fla. -- Zack Wheeler tossed three scoreless innings, yet afterward was upset.
"I'd like to forget what I just did out there," Wheeler said after allowing three hits and a walk while striking out three against the Atlanta Braves.
The Mets ultimately won, 8-2, thanks to seven unearned runs in the bottom of the eighth.
The Mets announced the crowd as a Tradition Field-record 7,687, which included New Jersey Gov. Chris Christie.
With the game tied at 1 in the bottom of the eighth, the tiebreaking run scored when Matt den Dekker raced from first base all the way to the plate on Anthony Seratelli's bunt, which reliever Luis Vasquez fielded and errantly fired down the right-field line. Dustin Lawley followed with a run-scoring groundout and, against reliever Mark Lamm, Kevin Plawecki added a two-run double. Den Dekker, batting again in the inning, capped the Mets' scoring with a two-run triple for an 8-1 lead.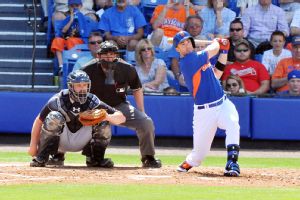 Brad Barr/USA TODAY Sports
David Wright went 0-for-3 during Sunday's Grapefruit League game.
"Today was really just going out there and working on some stuff, just because you're going to face those guys at times during the season," Wheeler said. "I was trying to work on my changeup a lot today. I was a little erratic, because I was sort of rotating my shoulders a little bit. Every time you get out there on the mound, it's been a little problem for me. There's a little too much adrenaline, I guess."
Bobby's back: Bobby Parnell handled the ninth inning, marking his first time in an official game since last July 30. (His first game-type appearance came in an intrasquad game Thursday, but Parnell said that was low-intensity and no comparison to Sunday's Grapefruit League game.)
Parnell allowed a leadoff double to Mark Hamilton, then watched the Braves load the bases with none out thanks to an error at first base by Matt Clark and catcher's interference by Plawecki. Parnell then coaxed a run-scoring double play for the lone damage against him and ended the game with a strikeout.
Parnell had undergone surgery on Sept. 10 to repair a herniated disk in his neck.
Center attention: Juan Lagares, who had a Mets-rookie-record 15 outfield assists last season, was at it again.
Lagares bailed Wheeler out of trouble in the first inning. The center fielder charged B.J. Upton's single to right-center and threw out Andrelton Simmons attempting to go from first to third base.
Terry Collins has advocated using Eric Young Jr. in the leadoff spot, but that likely pulls Lagares from the starting lineup. So the Mets will continue to debate the merits of each. Lagares proving he can competently handle MLB pitching would significantly help his cause. He batted .242 with a .282 on-base percentage in 421 plate appearances last season.
Lagares, for the record, also lost a seventh-inning fly ball in the sun that resulted in an extra-base hit Sunday. He went 0-for-2, but is hitting .353 in the Grapefruit League.
A-plus: Andrew Brown had an important outfield assist, too. The right fielder gunned down Matt Lipka at the plate to end the top of the eighth inning, preserving a 1-all tie. Plawecki technically blocked the plate on the play, but Collins asked the plate ump. Mark Ripperger told the manager Plawecki was within his rights because Brown's throw was online and Plawecki did not entirely block the entire plate anyway.
Ouch: Braves right-hander Kris Medlen grabbed his pitching elbow and departed the game after delivering a two-out pitch in the fourth to Clark. After being examined by Mets doctor Struan Coleman at the stadium, Medlen preliminarily was diagnosed with a forearm strain, the Braves announced. That's particularly bad news for Medlen, who missed the entire 2011 season recovering from Tommy John surgery.
What's next: The Mets play two against the Miami Marlins on Monday in Port St. Lucie. Dillon Gee starts a 9:30 a.m. "B" game. Bartolo Colon then handles the Grapefruit League game, in his 2014 exhibition debut.