PORT ST. LUCIE, Fla.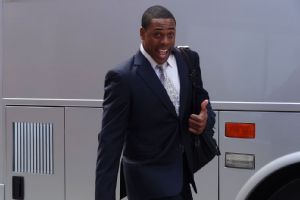 Adam Rubin
Curtis Granderson boards a Mets charter bus on Friday bound for the airport and the team's trip to Vegas.
FIRST PITCH: The Mets play two Saturday … in two different states.
In Port St. Lucie, Dillon Gee opposes Minnesota Twins left-hander Scott Diamond at 1:10 p.m. ET (PIX/WOR).
In Las Vegas, Bartolo Colon faces the Cubs at 4:05 p.m. ET (WGN).
See the Mets' full travel roster for the Vegas weekend here.
Saturday's news reports:
• Scott Boras has engaged the Mets in dialogue about Stephen Drew, although how recently is open to interpretation. "The message has always been that they have interest in Stephen but they wanted to see how things went in spring training," Boras tells Anthony Rieber in Newsday. Dan Martin in the Post cites "one person close" to Drew as saying he expected the free agent ultimately to sign elsewhere. Kristie Ackert in the Daily News reports the Mets have not had contact with Boras "in recent weeks."
• Stony Brook University product Tom Koehler blanked the Mets for five innings and Zack Wheeler surrendered a solo homer to Jarrod Saltalamacchia as the Miami Marlins beat the Mets, 1-0, Friday. Bob Geren managed the skeleton Mets team in their first night game with half the squad already having departed for Vegas.
Geren said he expected the low score given Koehler and reliever Henry Rodriguez's flamethrowing, and given it was the Mets' first 2014 night game. Geren, normally the bench coach and a former Oakland Athletics manager, said he was pleased with the Mets' pitching.
Scott Rice, Jose Valverde and Jeurys Familia combined to blank the Marlins for 3 1/3 innings. Those three relievers look like sound bets to make the Opening Day roster, in a bullpen that may also include Bobby Parnell, Vic Black, Carlos Torres and John Lannan.
"I thought Valverde, he looked really good -- 93, 94 mph," Geren said. "He had good command of his pitches. That was exciting. Scott Rice was like he always is: very consistent, good movement. And Familia pumping in there at 97 was impressive. A really good game all around for our pitching staff."
Read more on Friday's game at MLB.com.
• Ike Davis (calf) and Lucas Duda (hamstring) got five plate appearances apiece in A-ball games Friday while not running after making contact. They expect to repeat that DHing Saturday. Read more in the Post, Daily News, Star-Ledger, Record and MLB.com.
• The Mets sent Jacob deGrom and Jeff Walters to minor-league camp, reducing the number of players remaining to 47 (including rehabbing Matt Harvey and Jeremy Hefner). DeGrom, as well as still-in-camp Rafael Montero, could make their big-league debuts sometime this season in the bullpen. Read more in the Star-Ledger.
• Jared Diamond in the Journal discusses the importance of Noah Syndergaard, and all young pitchers, working on their changeups.
• From the bloggers … With the Mets in Las Vegas, Faith and Fear in Flushing considers the odds of a 90-win season.
BIRTHDAYS: 2011 supplemental first-round pick Michael Fulmer, a right-handed pitcher raised in Oklahoma, turns 21.
TWEET OF THE DAY:
My motto this weekend is "What Happens in Vegas, Stays in Vegas." No plans to use my bed at all.

— Jay Horwitz (@Jay_HorwitzPR) March 14, 2014
YOU'RE UP: Does it matter if the Mets wait until the season's fourth game to start Zack Wheeler?