PORT ST. LUCIE, Fla. -- Top prospect Noah Syndergaard knew it was inevitable. But it still stung somewhat Tuesday morning when he officially learned he had been demoted to minor-league camp.
"It's always disappointing when you get a taste of being in the big-league clubhouse, getting the treatment like a big leaguer gets, and then you've got to go back over to the minor-league side where things aren't so glamorous. So that's kind of disappointing," Syndergaard said. "But I kind of knew it was coming. I think no matter how well I threw during spring training, if I struck out everybody, if I didn't allow any runs whatsoever, I think I still was going to go over to the minor-league side regardless. There's a business standpoint to it. And I know there's other things I have to work on."
Syndergaard headlined a list of cuts that included Rafael Montero, who also is headed for Triple-A Las Vegas' rotation. Right-handers Cory Mazzoni, Ryan Reid and Joel Carreño, catcher Juan Centeno and first basemen Brandon Allen and Matt Clark also were dispatched to the minors.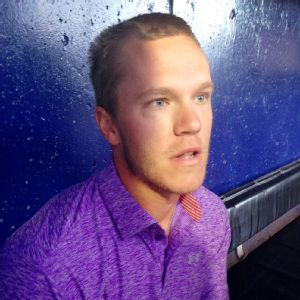 Adam Rubin
Noah Syndergaard speaks about his demotion after learning his fate Tuesday morning.With the six subtractions, the Mets currently are at 39 in big-league camp, including rehabbing Matt Harvey and Jeremy Hefner.
Syndergaard officially had a 5.19 ERA in 8 2/3 innings, but that was misleading. Eric Young Jr. had failed to make a relatively routine play against the Detroit Tigers in Lakeland, which cost Syndergaard a couple of earned runs on his ledger. In reality, Syndergaard received rave reviews.
Syndergaard said the highlight was the first inning of his debut against the Atlanta Braves at ESPN Wide World of Sports -- particularly a strikeout of the first batter he ever faced in the Grapefruit League, Jason Heyward, on a 98 mph fastball.
"Just that my stuff can play out on the field. I mean, I can get big-league hitters out," the 21-year-old Syndergaard added about what he took away from camp. "Just playing against guys I watched growing up, just being able to get them out as well.
"There's a sense of relief just knowing that my repertoire of pitches, my demeanor on the mound, opens eyes up in the big leagues, opens eyes of the big-league hitters. It's just a lot of confidence going into minor-league camp knowing that I had some pretty great success in big-league camp."
Syndergaard now should form a stellar Triple-A rotation with Montero, Jacob deGrom and potentially Jenrry Mejia. Logan Verrett and/or Mazzoni, also highly regarded, likely will round out the 51s' rotation.
"I think we're going to be one of probably the best rotations in baseball, if you can add those names to that list," Syndergaard said.
Syndergaard acknowledged he has work to do to polish his repertoire. He needs to hone his changeup. He also needs to make his "hook-from-hell" changeup, as Terry Collins labeled it, more consistent.
Syndergaard said Harvey was particularly helpful in camp, especially telling him to take things slowly. That is somewhat ironic, given Harvey has been the epitome of a pedal-to-the-metal mentality. Zack Wheeler's insights to Syndergaard were fewer and farther between.
"Matt's been pretty helpful, because he's been around it a little bit longer," Syndergaard said. "I mean, Zack just broke into the big leagues last year. Matt was just coming up to me during spring training, just telling me to take it easy. He sees him in the weight room, he just doesn't want me to get hurt, just kind of tells me to slow down a little bit."
Syndergaard's teammates embraced him. Early on, they taped a picture of Ivan Drago from the Rocky IV to his locker with the slogan, "I must break you," because of the fictional boxer's physical resemblance to Syndergaard. The sign remained on Syndergaard's locker throughout camp.
"I thought it was really cool that they saw me like that, and they saw me as one of the guys, not just the younger kid in camp," Syndergaard said. "They saw me as a future teammate."
The likelihood is Syndergaard will not be promoted until at least mid-June, which would delay his arbitration eligibility by a year.
As for what the Mets' brain trust told him in the meeting informing him of his demotion Tuesday morning, Syndergaard indicated it was succinct.
"The message was: 'We'll see you soon,' basically," Syndergaard said. "That's all they said. It's a good thing to hear."