PORT ST. LUCIE, Fla. -- Matt Harvey is careful not to outline a definitive timetable. But the ace still adamantly wants to return to the majors in August, while understanding that is the doctors and front office's ultimate call.
Harvey noted Tuesday that pitchers generally first get on a mound seven to eight months after Tommy John surgery, after long-tossing on flat ground at 120 feet. So, in Harvey's case, that could be June, given his procedure occurred Oct. 22.
Harvey, who has been tossing a baseball on flat ground at 60 feet since the four-month anniversary of surgery, indicated he should advance to 75 feet later in the week.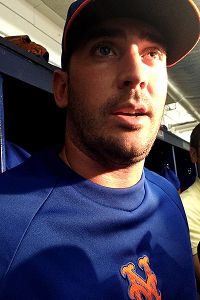 Adam Rubin
Matt Harvey speaks to the media Tuesday at Mets camp.
"Everything feels great," Harvey said. "I'm getting sick of staying at 60. So a little change will be nice. But the process is going well and I'm excited for the next step."
When the Mets break camp in nine days to depart for Montreal and exhibition games against the Toronto Blue Jays on the eve of the season, Harvey hopes to accompany the big-league squad rather than stay behind in Florida. Sandy Alderson has made it clear he would like Harvey to spend the bulk of his rehab at the Mets' complex in Port St. Lucie. Harvey has made it clear he would like to spend the bulk of his rehab with the major-league team, traveling with them to road games as well.
A compromise may be that Harvey sets up base in New York and heads to Florida when he is ready for rehab games. According to the collective bargaining agreement, Harvey cannot be compelled to rehab at the Mets' spring-training facility for more than 20 days without his written consent, so he ultimately will get his way.
"After talking with my agent and the Players' Association and going over the CBA rules, as a player you have rights," Harvey said. "I want to do what's best for the organization and best for the rehab process. For me, I've made it clear where I stand. I think everybody knows I want to be with the team and be with the guys. New York is my home. I love being there. I love showing up to the ballpark every day. If I have that opportunity, then that's where I'd like to be.
"We really haven't had that discussion quite yet," Harvey added. "I'd like to be prepared that, in my mind, if I can come back in August I haven't missed five or sixth months of baseball and try to come back and jump right back into the picture."
Harvey continues to maintain he will not rush the rehab process, despite eyeing August for a return to the majors -- only 10 months after surgery. He added that the recent news that Atlanta's Kris Medlen and Oakland's Jarrod Parker need second Tommy John procedures has not given him pause about hurrying back.
"I still have in my mind that I want to come back this year," Harvey said. "And whether the doctors clear that, or the people upstairs have other ideas, my mindset as a competitor is to always get back on the field. I think after watching what happened to a couple of guys on the Braves [Medlen and Brandon Beachy], everybody is always going to be so cautious about the recovery. But as a competitor we're always going to want to get back on the field. If the doctors at that point say it's fine, obviously my mind is always going to be on the baseball field."
Harvey understands the Mets have been open in imploring him not to be a story this season. He has mostly been off-limits for interviews, with rare exceptions like Tuesday. Harvey said he is uninterested in being in the news, too.
"I'm only throwing at 60 feet. Twenty throws at 60 feet, probably at 70 mph," Harvey said. "Unless I'm in Little League, throwing 70 mph, I don't think there's going to be much to write about. I don't want to be in New York for a story."
Harvey, despite his current limitations on the baseball field, has made a concerted effort to be around the team -- not a hobbit who rehabs and then disappears.
"It's not too bad," Harvey said about the idle time. "Like I said, I like to be around the guys, so I'm always in the dugout. I can't quite play golf yet, so spring training is a little bit different this year than it has been in the past. I love being here. I love being around the guys. So as much time as I can spend with them, that's what I've been doing."
Noah Syndergaard, demoted to minor-league camp Tuesday morning, was particularly complimentary of Harvey's advice throughout spring training.
"He works hard," Harvey said. "He came in wanting to make the team. Obviously everybody in here does. One thing I told him was not to want it in the weight room. Pitching is the most important thing. I told him it was a long season, that we're going to need him at some point, and take things -- not slow -- but don't go extremely crazy this early, because come August it's a lot.
"He's got the right mindset. I think going forward he's going to be very fun to watch. ... He's a hard worker. It seemed like every day he was leaving here with a completely sweaty shirt, so the work ethic is not an issue. They obviously have a plan here, as shown with me in the past and [Zack] Wheeler last year."