PORT ST. LUCIE, Fla. -- Probable fifth-starter Daisuke Matsuzaka surrendered homers to Miguel Cabrera and Tyler Collins and was charged with four runs on seven hits and a walk in five innings, but the Mets rallied to beat the Detroit Tigers, 5-4, Tuesday at Tradition Field.
Andrew Brown plated Anthony Seratelli with a walk-off single in the ninth as the Mets improved to 9-10-2 in Grapefruit League play.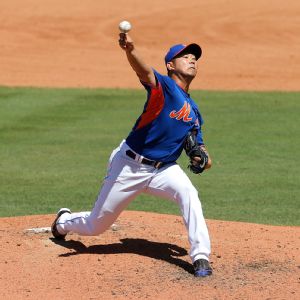 Joel Auerbach/Getty Images
Daisuke Matsuzaka allowed a pair of home runs Tuesday.
"The situation for me hasn't changed," Matsuzaka said through interpreter Jeff Cutler. "I'm still aiming for a spot in the rotation for Opening Day. I just have to continue doing what I've been doing and make a case for myself."
Hot Soup: First baseman Eric Campbell homered against Detroit left-hander Kyle Lobstein and finished 2-for-4 with two extra-base hits and two runs scored. The 26-year-old Boston College product is now hitting .333 in 36 Grapefruit League at-bats.
The righty-hitting Campbell likely is ticketed for a corner infield/corner outfield role with Triple-A Las Vegas. He is not on the 40-man roster, which is a major obstacle, but nonetheless may have opened eyes this spring training.
"Hopefully," Campbell said. "This is my first big-league camp, so it's really my first time playing a lot in front of T.C. and the other coaches and Sandy and all the higher-ups. It's been good so far."
Campbell had his career on the ropes in 2011 when he hit only .247 with four homers in 126 games with Double-A Binghamton. But he shed 15 pounds that next offseason, returned to the B-Mets and reestablished himself by hitting .297 with a .391 on-base percentage and .439 slugging percentage in 2012.
"I just put my head down and kept working, got in better shape," Campbell said. "I lost some weight and said, 'Hey, I'm going to really focus.' I said, 'I'm going to give it all I've got for one more year.' Since then it's really taken off."
Campbell hit .314 with eight homers and 66 RBIs and had a .435 on-base percentage in 425 plate appearances with Triple-A Las Vegas last season. He logged 29 games in right field, 28 at third base, 27 at first base and 26 in left field and also pitched an inning, albeit allowing four runs, including a homer.
Said Terry Collins: "He's athletic, runs for a big guy."
Lacking gas: Closer Bobby Parnell continued to lack velocity in his fourth exhibition appearance, but Parnell nonetheless tossed a perfect ninth inning.
"The first time out the adrenaline was flying and he threw it up there pretty good," Collins said. "Today I think he might have hit 90 mph. He's still going to need some innings. Next time out he's probably going to go back-to-back, which may help him a little bit. He's throwing good. He feels good. I think he's just getting himself ready."
Said Parnell: "I feel good. Every day it's getting better. I feel like I had good depth on my two-seamer today, so I used it a lot."
As for his velocity, Parnell added: "I'm not worried about it."
In the middle: Collins acknowledged Wilmer Flores, who started at shortstop again Tuesday, would likely see time at both middle-infield positions with Las Vegas assuming he opens the season in Triple-A, which is the projection. "He needs to play both," Collins said.
What's next: The Mets have their lone off day of spring training Wednesday. Collins indicated the entire team would be off. That includes Ike Davis and Lucas Duda as well as Jonathon Niese, who had indicated he may resume throwing as soon as Wednesday. The Mets reassemble Thursday to face the Atlanta Braves in Port St. Lucie at 1:10 p.m., with Zack Wheeler expected to start.