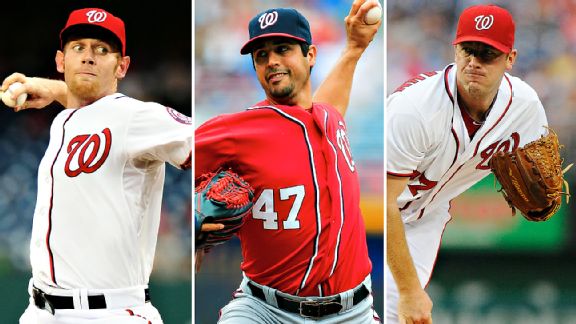 USA TODAY Sports
The Mets will face Stephen Strasburg, Gio Gonzalez and Jordan Zimmermann in a season-opening series against the Nats at Citi Field.PORT ST. LUCIE, Fla. -- The Washington Nationals officially announced Wednesday their rotation for their season-opening series against the Mets at Citi Field.
Stephen Strasburg will start on Opening Day on March 31, followed by Gio Gonzalez on April 2 and Jordan Zimmermann on April 3.
The Mets originally intended for Jonathon Niese to start Opening Day opposite Strasburg, followed by Bartolo Colon in Game 2 and Dillon Gee in Game 3.
Now, there is a lack of clarity, with Niese very possibly opening the sesaon on the disabled list and getting activated for an April 6 start against the Cincinnati Reds.
Regardless of the Mets' rotation order, Colon and Gee are sure to face the Nats.
Terry Collins previously has said Colon is the most likely for Opening Day.
Gee went 4-2 with a 2.72 ERA against Washington last season, leading one Nats official to joke that he has nightmares about Gee.