PORT ST. LUCIE, Fla. -- Zack Wheeler went to his offspeed pitches and found his groove after a shaky start, and the Mets ultimately beat the Atlanta Braves, 7-6, Thursday at Tradition Field on Anthony Recker's walk-off three run homer.
Wheeler was pummeled in the first inning of what became a solid 75-pitch appearance over 5 1/3 innings.
He allowed a game-opening triple to Jason Heyward, then a clean single to B.J. Upton. No. 3 hitter Justin Upton followed by smoking a shot to left-center, which Juan Lagares corralled at the wall with a highlight-reel leaping catch. Ernesto Mejia then homered beyond left fielder Chris Young's leaping attempt to cap the two-run opening frame.
"You know just as well as I do he's awesome to have behind you," Wheeler said about Lagares. "He's not scared to go get a ball in the gap, dive, go against the fence, anything. And he has a cannon. And C.Y. almost got the other one. We've got a good outfield, that's for sure."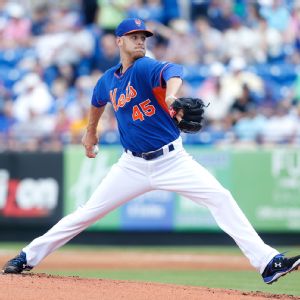 Joel Auerbach/Getty Images
Zack Wheeler rallied after a slow start Thursday.
Wheeler's final line: 5.1 IP, 5 H, 2 R, 2 ER, 1 BB, 2 K.
In the sixth, Wheeler turned two baserunners over to Kyle Farnsworth. He loaded the bases with a walk, but kept Atlanta off the scoreboard to preserve a 4-2 lead.
Farnsworth, who is not currently projected to make the Opening Day roster, then was charged with a pair of seventh-inning runs. The latter scored on Justin Upton's two-run double against Scott Rice, which gave the Braves a three-run frame and a 5-4 lead.
"They were 'ambushing' like crazy," Wheeler said, referring to Atlanta's propensity to swing early in counts against him. "I'm sure everybody saw that. I had to mix it up a little bit. I threw a lot of changeups today, and it was working well for me. I tried to go without the slider today, just to do it, so I had to throw my other stuff more. I'll probably use that [slider] a lot against them during the season. I didn't want to give them a good look at it."
Ouch: Lagares was drilled in the left shoulder with a pitch from John Cornely after squaring to bunt in the seventh. Lagares immediately departed the game. He had a welt there afterward, but felt fortunate because it hit the muscle. He indicated he needs to wait to see for sure, but believes he should be OK.
"I thought it was going to hit me in the face," Lagares said.
Welcome back: Ike Davis, slowed by calf injuries during camp, started his first Grapefruit League game since March 2. He finished 0-for-3, but indicated he could have hustled out of the box for a double had he produced a shot to the gap. Davis also logged six innings at first base, after only DHing in minor-league games leading into Thursday's return.
Davis is expected to DH on Friday against the Minnesota Twins.
"The results obviously are big, but they're not really that big," Davis said. "I just want to get back out there and play. But actually it felt pretty good in the box today. I hit a couple of balls hard. ... Obviously I haven't played any defense in a game in a month. The biggest thing is probably getting out there and getting used to the flow of the game on defense."
As for his calves, Davis said: "They feel pretty good. I'm definitely tired. I haven't done that in a while. So they're probably going to be a little tighter than normal, but there's no pain. So that's a good sign."
Meanwhile, Lucas Duda (hamstring) went 0-for-6 with a strikeout and did not run the bases after making contact.
Went to the videotape: Ruben Tejada went 3-for-3, doubling his Grapefruit League hit total. He had been 3-for-25 entering the game.
"Niño, nice game!" David Wright shouted to Tejada in the clubhouse after both departed.
Tejada said he has been watching video of 2012, when he hit .289 the season after Jose Reyes departed and bequeathed him the shortstop job.
"I watched a lot of videos from two years ago and came here and tried to do the same in the morning, early," Tejada said. "I think it helped me a lot."
Tejada reportedly also got a call from Reyes to offer support.
Tejada's Thursday showing leaves Travis d'Arnaud as the regular with the quietest bat in camp. D'Arnaud, whom scouts say is not getting his hands into proper position at the start of his swing, lined out to left field and walked Thursday while finishing 0-for-2. He is batting .125 (4-for-32) in Grapefruit League play.
Eighth wonder: Terry Collins batted the pitcher eighth, with interesting early results.
It did not pan out the first turn, when the No. 8 hitter Wheeler ended up leading off the third.
The next time, it contributed to the Mets breaking a 2-all tie. The No. 7 hitter d'Arnaud walked, Wheeler bunted him to second and Lagares then drove in d'Arnaud from third base with an opposite-field single. Tejada's third hit, an RBI single, made it 4-2 later in the frame.
Debutant: Ervin Santana logged two innings in his Atlanta Braves debut, after signing a one-year, $14.1 million deal with the club. He surrendered a first-inning sacrifice fly to Wright, but that was the first of five straight batters Santana retired to complete his initial appearance.
Black Thursday: Vic Black had a much-needed 1-2-3 eighth after struggling with control for much of camp.
What's next: Dillon Gee and the Mets make the three-hour drive across the state to Fort Myers to face the Twins. Gee, now the expected Opening Day starter, opposes Ricky Nolasco.