JUPITER, Fla. -- Travis d'Arnaud snapped an 0-for-21 drought with a two-run homer, Wilmer Flores went deep while producing four RBIs and Bartolo Colon even comically got into the act with his bat as the Mets beat the Miami Marlins, 10-2, Saturday at Roger Dean Stadium.
Colon surrendered a two-run homer in the fourth to Garrett Jones but no other damage. His final line: 6.2 IP, 5 H, 2 R, 2 ER, 0 BB, 3 K, 1 HR. He threw 83 pitches (65 strikes).
D'Arnaud's second-inning long ball against left-hander Brad Hand snapped his prolonged drought and opened the scoring.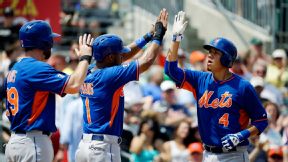 David Goldman/Associated Press
Wilmer Flores receives congratulations at the plate after belting a three-run homer. He finished with four RBIs.
Flores, who started his fourth spring-training game at shortstop, had a three-run shot against Hand two innings later for a 5-0 lead. Flores later had a run-scoring single to finish with four RBIs.
Ike Davis added a two-run homer against Steve Cishek in the seventh as the Mets' posted their ninth and 10th runs. Davis, who missed more than two weeks of Grapefruit League games with ailing calves, is now 5-for-15 with two homers, four extra-base hits and two walks.
Hand had tossed five sharp innings in his last outing, in what became a combined no-hitter against the Yankees in Panama. Stony Brook University product Tom Koehler is expected to claim the fifth spot in Miami's rotation over Hand, who would head to the bullpen if he is not traded because he is out of options.
Colon officially batted for the first time as a Met, which generated plenty of fan interest. The portly pitcher struck out looking in his first at-bat, then sent a tapper back to the pitcher his next turn. Colon's contact with that pitch sent the Roger Dean Stadium crowd into a frenzy of mock cheers.
That was nothing compared to the reaction to Colon's next at-bat.
Colon produced a sixth-inning RBI single to left field on Henry Rodriguez's 93 mph fastball to give the Mets a 7-2 lead. Fortunately for Colon he did not have to exert himself. Eric Young Jr. followed with a ground-rule double, so Colon had no pressure reaching third base.
In his final at-bat, Colon hit a trickler down the third-base line that would have been an infield hit for nearly any runner. But Colon jogged to first base, almost determined not to get there, and narrowly was thrown out.
Colon, who reportedly worked so much on hitting in January with his impending move back to the NL that he developed blisters, is 1-for-29 at the plate since 2003.
"Really the ball found the bat. I really didn't do anything," Colon said through a team official. "Honestly, I was a little scared. I haven't done that in a while. Thankfully nothing happened."
The Mets stole four bases on the afternoon, with EY Jr. and Chris Young (3-for-3, walk) swiping two apiece.
What's next: The Mets play their final split-squad games of the exhibition season Sunday. Jenrry Mejia opposes Washington Nationals right-hander Tanner Roark at 1:10 p.m. in Port St. Lucie (PIX11/WOR 710 AM). John Lannan opposes Atlanta Braves right-hander Freddy Garcia at 1:05 p.m. at ESPN Wide World of Sports at Disney (no Mets TV/radio).