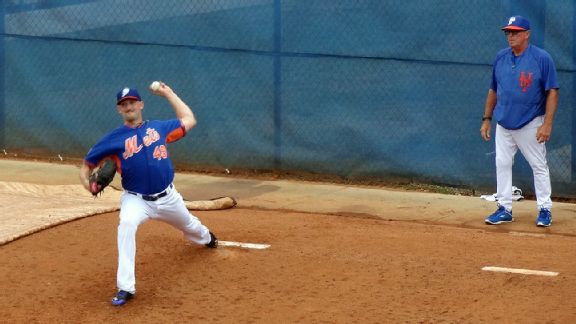 Adam Rubin
Dan Warthen watches Jonathon Niese throw off a mound Monday for the first time since the southpaw received a cortisone injection last Monday.PORT ST. LUCIE, Fla. -- Jonathon Niese threw 45 pitches in a bullpen session Monday in the rain and continues to eye April 6 for his return from a season-opening disabled-list trip.
Niese was throwing off a mound for the first time since receiving a cortisone injection last Monday at the Hospital for Special Surgery in Manhattan to address inflammation in his pitching elbow.
"It felt great," Niese said. "It feels good to throw pitches without any pain or soreness, but we'll see how it reacts tomorrow."
The southpaw is due to throw 55 to 60 pitches in a minor-league game Thursday, then up that workload five days later. That should set up Niese to face the Cincinnati Reds in the season-opening six-game homestand's finale.
"That's the plan right now," Niese said. "I don't want to set anything in stone. That just sets up disappointment if there's a setback."
Pitching in minor-league games until his activation allows the Mets to backdate the DL trip nine days into spring training.
Asked if he is confident the elbow issue will not arise again, Niese said: "I'm hoping it won't. I mean, there's so many things that have happened to me that I can't really say. I've just got to take it day by day, one pitch at a time, and hopefully I can stay healthy. ... I think there's going to be soreness. I guess that happens in every case. It's one of those things where we've got to manage it."