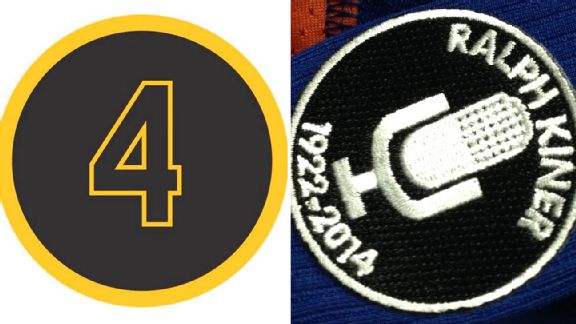 Courtesy of Pittsburgh Pirates and New York Mets
The Pirates (No. 4) and Mets (microphone) both will remember the late Ralph Kiner with uniform patches this season.PORT ST. LUCIE, Fla. -- The Mets will not be the only team honoring the late Ralph Kiner with a patch. The Pittsburgh Pirates announced plans Monday to remember Kiner with a No. 4 patch on their jerseys this season.
The Hall of Famer played eight of his 10 big-league seasons with the Pirates.
Kiner died Feb. 6 at age 91.
The Mets will have a pregame ceremony in Kiner's honor on Opening Day and will display their commemorative logo on the left-field wall at Citi Field throughout the season. Kiner's children -- Michael, Scott, K.C., Tracee and Kimberlee -- are due to attend the March 31 ceremony.