PORT ST. LUCIE, Fla. -- Left-hander John Lannan passed another test in his transition to a relief role.
For the first time in his pro career, Lannan entered mid-inning and inherited runners on base. It also marked his first time working on consecutive days.
The situation: first and third and none out in the top of the seventh against the St. Louis Cardinals on Monday, with the Mets leading by two runs and two lefty batters due up.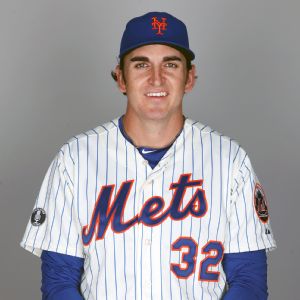 Eliot J. Schechter/MLB Photos
John Lannan has tossed two perfect relief innings since switching roles.
Lannan proceeded to coax Daniel Descalso into a run-scoring 3-1 putout and then struck out Matt Carpenter.
Terry Collins kept Lannan in to face righty-hitting Tommy Pham, who hit an inning-ending comebacker to the southpaw.
The Mets went on to win, 5-3.
"That's exactly how I envisioned it," Collins said. "… I was glad we had the opportunity to get John in there with guys on base to face some lefties. That's what I wanted. He did what he did yesterday. He came right at them, threw strikes and really had a good outing."
Lannan had similar success Sunday in a perfect inning against the Washington Nationals, in the first bona fide relief appearance of his career, which came at the start of an inning.
"The adrenaline was definitely there today, more than yesterday, just because of the situation," Lannan said. "I was still able to throw strikes. I faced two lefties in there, so it was a good experience.
"It's a start. It's back-to-back days. I mean, it's a hard thing to do. It's going to be work, but I'm up for the challenge. The first two days have gone pretty well. I just have got to keep on learning and figure out a routine to be able to go out there back-to-back days on a consistent basis."