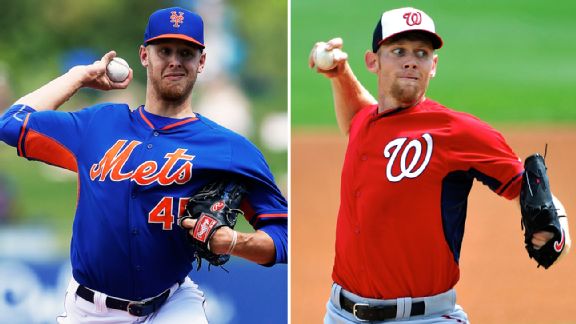 Getty Images
Zack Wheeler and Stephen Strasburg face off on Tuesday in Grapefruit League action ... not on Opening Day.PORT ST. LUCIE, Fla.
FIRST PITCH: Mets fans will not get Stephen Strasburg versus Zack Wheeler on Opening Day, but they will get the matchup six days earlier in Viera, Fla.
Strasburg, Washington's Opening Day starter at Citi Field, is scheduled to oppose Wheeler at 1:05 p.m. Tuesday at Space Coast Stadium. The game is not on television or radio in New York, but will be on the Nats' MASN network.
Tuesday's news reports:
• Daisuke Matsuzaka is expected to get word Tuesday that he has made the Opening Day roster. Noon is the deadline for the Mets to inform him he has made the club. Otherwise, the Mets would have to release him, or give him $100,000 for the right to send him to the minors. Matsuzaka appeared to seal the deal by blanking the St. Louis Cardinals through six innings Monday. Read more in the Post, Daily News, Times, Star-Ledger, Newsday and MLB.com.
OPENING ACTS
Dillon Gee becomes the 23rd different pitcher to start for the Mets on Opening Day.
• The Mets made it official Monday, naming Dillon Gee the 23rd different Opening Day starter in franchise history. He will oppose Strasburg. Read more in the Post, Star-Ledger, Record, Newsday, Journal and MLB.com.
• Matt Harvey will mostly get his wish. The ace primarily will rehab in New York this season, a source confirmed to ESPNNewYork.com.
Writes columnist David Lennon in Newsday on the topic:
Just a reminder for those who tuned in late: Harvey is the guy who had Tommy John surgery last October and is not likely to throw a pitch for the Mets this season. Where Harvey will do his stretching exercises and long toss -- either New York or Port St. Lucie -- apparently has become a thing.
My take? This is nuts.
To paraphrase Allen Iverson, another franchise player from another psycho sports town: We're talking about rehab, man. We're not even talking about the game. We're talking about rehab.
Columnist John Harper in the Daily News suggests the Mets, not Harvey, need the attitude adjustment. Writes Harper:
It's just that Harvey clearly isn't going to bow to authority or conventional behavior just to please people. For a team like the Mets that has accepted losing much too easily, Harvey provides a harder edge to their collective personality.
That's not a knock on David Wright. He's a team-first star who cares about all the right things, on the field and in the clubhouse, and every team needs that behavior as well.
Harvey just adds an I'm-good-and-know-it presence that can help change a losing culture, even if he doesn't pitch at all this season.
Read more in the Post, Daily News, and Star-Ledger.
• Jonathon Niese threw off a mound Monday for the first time since receiving a cortisone shot in his left elbow one week earlier. He pronounced the bullpen session a success. The southpaw aims to be activated from the disabled list for an April 6 start against the Cincinnati Reds. His next step is a minor-league game Thursday. Read more in the Post, Star-Ledger and Record.
• Wilmer Flores was arguably the highest-profile demotion Monday. Also sent to minor-league camp: Matt den Dekker, Zach Lutz and Kirk Nieuwenhuis. Thirty-three players, including the rehabbing Harvey and Jeremy Hefner as well as the DL-bound Niese, remain in big-league camp. Flores will play shortstop and second base at Triple-A Las Vegas, which will give the Mets an internal option to unseat Ruben Tejada in-season if the incumbent shortstop flops in April. Read more in the Post, Star-Ledger and MLB.com.
• The Mets' official account made an unfortunate tweet after Matsuzaka struck out the side in the first inning Monday, writing: "Dice-KKK off to a quick start. He strikes out the side in the 1st inning. #NYMvsSTL"
The tweet subsequently was deleted, with an apology. Read more in the Post and Daily News.
• The Mets have created the position of assistant hitting coach. Luis Natera, who has long served as Double-A Binghamton's hitting coach, was named to the new role as Dave Hudgens' deputy. Read more in the Star-Ledger.
• Kyle Farnsworth, who was released by the Mets on Sunday, is expected to re-sign on a minor-league deal Tuesday. The maneuver will save the Mets a $100,000 retention bonus. Read more in the Star-Ledger and Record.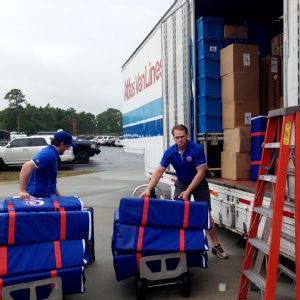 Adam Rubin
The moving truck carrying Mets equipment back to Citi Field was fully loaded and departed Monday at noon.
• The Pittsburgh Pirates will honor the late Ralph Kiner with a No. 4 patch on their jerseys this season. The Mets previously announced their intention to wear a patch as a tribute to their longtime broadcaster.
• The Mets beat the Cardinals, 5-3, Monday behind a three-run third inning against Shelby Miller that included a two-run double by Daniel Murphy. Vic Black flopped again, perhaps imperiling his seemingly locked up roster spot. He now has allowed 22 baserunners in eight Grapefruit League innings. John Lannan shined in a relief role for the second straight day. Lannan is a perfect 6-for-6 in retiring batters in a two-day span out of the bullpen.
• Read more on Lannan's relief transition in the Journal.
• Chris Schwinden and eight other players were released from minor-league camp.
• Curtis Granderson taught baseball to Port St. Lucie-area YMCA children after playing in Monday's Grapefruit League game. See photo here.
• From the bloggers … Faith and Fear tries to reconcile Ike Davis' continued Mets presence with the expectation he was considered on his way out during the offseason. … NY Mets Life hopes Sandy's plan is worth the wait.
BIRTHDAYS: Soon-to-be Hall of Fame inductee Tom Glavine turns 48. ... Lee Mazzilli, whose son L.J. is now a Mets farmhand, is 59.
TWEET OF THE DAY:
Throughout the 2014 season we will wear this commemorative No. 4 patch to honor #Pirates Hall of Famer Ralph Kiner. pic.twitter.com/9rx2kccaGD

— Pittsburgh Pirates (@Pirates) March 24, 2014
YOU'RE UP: Should Vic Black, Gonzalez Germen, Jenrry Mejia or Daisuke Matsuzaka receive a bullpen spot if there is only room for one in that role?