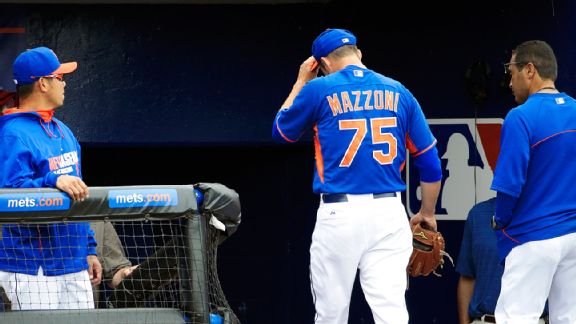 David Goldman/Associated Press
Cory Mazzoni departs Thursday's game with an escort from trainer Ray Ramirez.PORT ST. LUCIE, Fla. -- The Mets dispatched Bartolo Colon to a back field Thursday to avoid facing the Washington Nationals, his first regular-season opponent.
Instead, Cory Mazzoni made the Grapefruit League start. And the prospect suffered an injury that forced him to depart after recording only five outs.
Mazzoni Mazzoni, who appeared ticketed for Triple-A Las Vegas' rotation to open the season, left the game with what the Mets labeled triceps soreness.
His fastball was registering 92-94 mph in the first inning, but his arm angle dropped shortly before he was forced to depart.
"Any time you see a pitcher stop and has to come out of the game, where they don't try to pitch through it, it's always a concern," Terry Collins said. "Now, he said it was a triceps, which is not an area that you're concerned about really damaging necessarily. But he's going to miss significant time, because this kid has got a great arm, and until that arm is ready again, he's going to miss some time. And that's too bad, because he certainly is on our radar as a guy that people thought would certainly come up this summer and help us."
Mazzoni, 24, went 5-3 with a 4.36 ERA in 13 appearances (12 starts) with Double-A Binghamton last season before requiring surgery for a torn meniscus. He is projected to pitch in relief in the majors.