Howard Simmons/NY Daily News Archive via Getty Images
Four of the late Ralph Kiner's children will be on hand at Citi Field on Monday when the Mets honor the Hall of Famer and legendary broadcaster.MONTREAL
FIRST PITCH: Opening Day is only a day away.
The Mets completed their exhibition schedule Saturday with a 2-0 loss to the Toronto Blue Jays before 50,229 onlookers in Montreal, then flew to New York in advance to Monday's 1:10 p.m. opener against the Washington Nationals.
Dillon Gee (12-11, 3.62 ERA last season) will oppose Stephen Strasburg (8-9, 3.00) at Citi Field.
The Mets will have a private workout Sunday at their home ballpark.
Terry Collins on Saturday declined to specify his Opening Day lineup, which basically means declining to reveal whether Ike Davis or Lucas Duda would start at first base and whether Eric Young Jr. or Juan Lagares would start in the outfield.
TC has clearly advocated EY Jr. as his leadoff hitter, so the resolution should offer insight as to how much sway the manager actually has. Meanwhile, logic suggests Ike gets the first shot at first base, with very little rope, although that too remains to be seen.
Asked if he knew which Opening Day lineup he intended, Collins succinctly said Saturday: "I do."
Asked if he cared to share it, the manager added: "No."
The Mets are 34-18 in season openers, which gives them an MLB-best .654 winning percentage. That's despite losing the first eight Opening Days in franchise history.
Sandy Alderson has floated a 90-win goal for the Mets, but that seems more wishful thinking than being realistic. The Mets have produced five straight losing seasons, and enter 2014 off consecutive 74-88 campaigns.
"We think we're going to be better," Collins maintained Saturday. "We think we're going to do some positive things. We've added some athleticism, some power. Now we've just got to go play."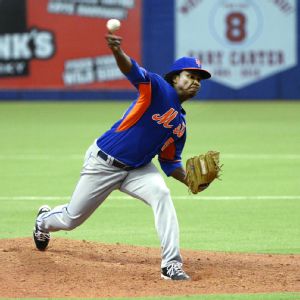 Eric Bolte/USA TODAY Sports
Jenrry Mejia is scheduled to start Friday against the Reds.
Sunday's news reports:
• Jenrry Mejia has made the Opening Day roster over Daisuke Matsuzaka. Matsuzaka described himself as "shocked" by the decision. Still, there are multiple scenarios in which Matsuzaka never throws a pitch for Triple-A Las Vegas. Mejia is due to visit a doctor Sunday after being struck in the right forearm with a line drive Friday. X-rays in Montreal were negative. If Mejia cannot pitch Friday against the Cincinnati Reds, or if Jonathon Niese cannot come off the disabled list two days later for a homestand-concluding start, Matsuzaka would step in. Matsuzaka might succeed Mejia after one turn of the rotation anyway. Read more in the Times, Star-Ledger, Daily News, Newsday and MLB.com.
• Gonzalez Germen and Andrew Brown round out the 25-man roster, with Kyle Farnsworth, Eric Campbell, Anthony Seratelli and Taylor Teagarden among the players ticketed for Triple-A. See the unofficial Opening Day list of players here.
• Columnist Mike Vaccaro in the Post recaps the long stretches of futility in Mets history, including 2009 to the present.
• New York City Mayor Bill de Blasio will throw the ceremonial first pitch on Opening Day. A pregame ceremony at Citi Field will honor the late Ralph Kiner. It is due to include his children Michael, K.C., Tracee and Kimberlee. Their brother Scott will be in Pittsburgh for a Pirates ceremony honoring their father, according to the Daily News, which interviewed Kiner's kids. Read more on the pregame ceremony in the Daily News.
• Steve Serby in the Post has a Q&A with SNY's Gary, Keith and Ron. On Noah Syndergaard, Ron Darling tells Serby: "I've watched him throw not only in a game, but also on the side. He's a bear, and he's got all the makings of one of those special guys. I think that there's definitely some more polish that he needs."
• The Mets' ballpark-related revenue declined for a fourth straight season in 2013, Jim Baumbach writes in Newsday.
• Mike Puma in the Post discusses the Davis versus Duda decision.
• Marc Carig in Newsday reviews Alderson's call for 90 wins.
• Curtis Granderson as the cleanup hitter provides protection for David Wright in the No. 3 hole, writes Anthony Rieber in Newsday.
• Columnist Joel Sherman in the Post doubts you'll see Matt Harvey in 2014, with the Mets and agent Scott Boras both prioritizing being cautious. Writes Sherman:
It is not just that there has been a rash of Tommy John surgeries this spring (seven) that has the industry wondering if this is a coincidence or a sea change of some sort. But five starters between ages 24-29 -- Brandon Beachy, Daniel Hudson, Cory Luebke, Kris Medlen and Jarrod Parker -- all needed a second Tommy John in the past six weeks, and in the cases of Beachy, Hudson and Luebke it was within two years of their first. Harvey is 25.
• Harvey tells Rieber in Newsday he wants to be a Hall of Famer. He toured the museum at age 17. "Being the best is being in that room," Harvey said. "That was something that I always kind of pictured and hoped that one day my plaque would be up there." Harvey and Masahiro Tanaka's teams actually met in Cooperstown when Harvey was a teenager, Rieber also writes.
• The Mets hope to improve their recently dismal home record in 2014. Carig in Newsday writes one part of the plan is to curtail access to the players, at least during clubhouse time.
• From the bloggers … Faith and Fear remembers not being able to read about today's game until tomorrow's paper came out. … NY Mets Life reviews how Mets players have performed on past Opening Days.
BIRTHDAYS: Agent Terry Bross, a St. John's product and former Mets pitcher, turns 48. Bross' clients include Bronson Arroyo.
TWEET OF THE DAY:
Amazing to be back in the greatest city in the world. Can't wait to start the new season. #LGM #thisisouryear

— josh satin (@joshsatin) March 30, 2014
YOU'RE UP: What do you believe the Mets' record will be in 2014?