NEW YORK -- Yes, the whipped-cream-pie-to-the-face tradition after Mets walk-off wins will continue in 2014, despite Justin Turner's departure to the Los Angeles Dodgers.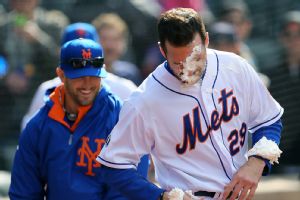 Win McNamee/Getty Images
Ike Davis receives a postgame whipped-cream pie to the face from Jon Niese.After Ike Davis belted a walk-off grand slam that lifted the Mets to a 6-3 win against the Cincinnati Reds on Saturday, Jonathon Niese did the honors of planting the pie into the face of Davis during the pinch-hitter's on-field postgame interview.
"Spontaneous," Niese said about how he assumed the responsibility. "I was the first one to get the pie. So I just did it."
Said Davis: "This one I got in the eyes. I couldn't see very well for a while after it. But it tastes good. It's whipped cream.
"I did not know it was coming. Turner wasn't here, so I did not know who was going to do it. It was a good day today. That's for sure."
Asked if he would assume the leadership role in that tradition going forward minus Turner, Niese said: "I don't know. We'll see. We'll see if I get to it first or not. If I get to it first, then I guess it will be my responsibility."