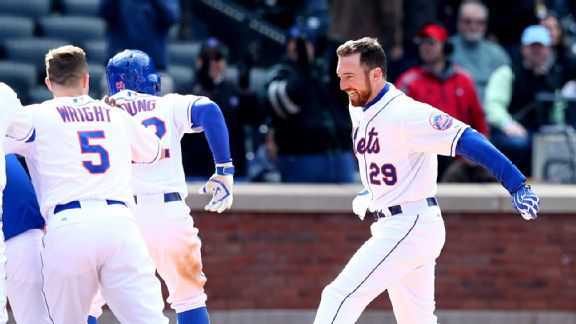 Elsa/Getty Images
Ike Davis reaches the plate after connecting on a walk-off grand slam Saturday at Citi Field.NEW YORK -- So, Terry Collins, who is your first baseman now?
A day after Collins officially declared Lucas Duda would get an extended audition at first base, Ike Davis pinch hit and delivered a walk-off grand slam against J.J. Hoover as the Mets beat the Cincinnati Reds 6-3 at Citi Field.
It marked the franchise's first game-ending grand slam when trailing since Kevin McReynolds on June 25, 1991, off Montreal's Scott Ruskin.
#29 1B
New York Mets
2014 STATS
GM

3

HR1

RBI4

R1

OBP.600

AVG

.500
It was only the organization's third-ever pinch-hit grand slam. The others: Fernando Tatis on July 27, 2009, against Colorado's Franklin Morales, and Tim Teufel on June 10, 1986, against Philadelphia's Tom Hume. Teufel's shot also was a walk-off.
Collins said Davis will start Sunday at first base, after Duda made three straight starts.
"I had already planned on having Ike playing Sunday anyway," Collins said. "When I talked to him the other day, I said, 'Listen, you're going to play Sunday. So even though it may not be an everyday thing, you're going to get playing time.'
"To be honest, one of my biggest concerns was in Ike's case, when he found out we were going to look at Lucas, how was he going to approach being a bench player? Because it certainly is a morale shock a little bit -- that you're not wanted, nobody likes you. And to be able to be on that bench and be ready to come up in a clutch situation, it takes concentration. He was ready to do it."
Asked about his thoughts as he rounded the bases, Davis said, "Just happy. It feels good to just hit a ball on the barrel, come through in the clutch and get a 'W' for the team."
After a two-homer game Friday, Duda went 0-for-4 with three strikeouts Saturday.
Still, Davis is not expecting to quickly reclaim the job should a solid performance Sunday follow the slam.
"As long as Duda keeps hitting, too, then I'll probably just stay in the same situation," Davis said. "All I can do with the at-bats that I'm allowed is put my best effort forth and hopefully I get in there again.
"That's basically going to be my role," Davis continued, referring to pinch-hitting, "so that's going to be every game hopefully. Obviously I'm not going to hit a home run every time, but I've got to be ready for those big at-bats. Hopefully I can take advantage of them."
As for his routine on the bench, Davis said, "I start running around the fifth, trying to get loose. Then I hit in the seventh and the eighth -- just a little bit. I don't have to hit 1,000 balls, but just to stay loose."
Davis smoked a hanging curveball from the fill-in-closer Hoover over the right-field wall.
"You're not really afforded to look for pitches as a pinch hitter," Davis said. "I was actually kind of mad at myself for not swinging at the first-pitch fastball. I was a little out in front, but I recognized it and kept my body from drifting too much and was able to put some barrel on it and have enough to leave the yard."
Asked if the last two days had been "strange," Davis replied, "Just different. Different role. There's only so many starters in the major leagues. And there are a whole lot of bench players here to do a job, too. I've just got to take it, and take it in stride, and try to help the team win from the bench. A lot of people have to do it."