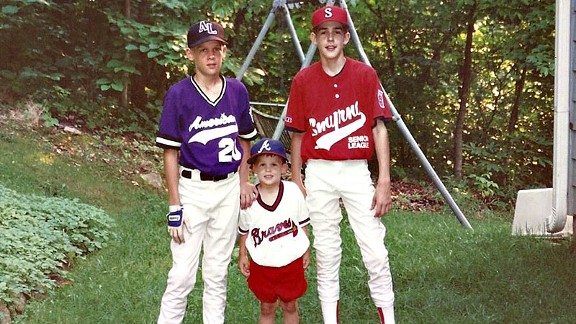 Courtesy of Wheeler Family
That's a young Zack Wheeler in the middle, dressed in Braves apparel and flanked by older brothers Adam (left) and Jacob (right).ATLANTA
FIRST PITCH: Native Georgian Zack Wheeler, who tossed six scoreless innings in his big-league debut against the Atlanta Braves last June 18, pitches at Turner Field for the second time in his career Wednesday.
Wheeler (0-1, 4.50 ERA) opposes Ervin Santana in the former Angel/Royal's debut with the Braves.
Santana signed with Atlanta on March 12 after the Braves lost Brandon Beachy and Kris Medlen to elbow injuries.
Wednesday's news reports:
• Bartolo Colon tossed seven scoreless innings despite a family issue on his mind Tuesday. Colon's mother Adriana Morales, 63, was diagnosed with breast cancer last week, he told ESPNdeportes.com's Enrique Rojas.
• With Bobby Parnell having undergone Tommy John surgery Tuesday, Jose Valverde is entrenched as the closer. Valverde made things exciting Tuesday, loading the bases in the ninth before completing the shutout as the Mets beat the Braves, 4-0. Travis d'Arnaud snapped an 0-for-16 drought to start the season, although the Mets overall remain in an offensive funk.
Read game recaps in the Post, Daily News, Times, Star-Ledger, Record, Newsday and at MLB.com.
David Goldman/Associated Press
Hank Aaron addresses the crowd Tuesday night at Turner Field.
• Before Tuesday's game, the Braves offered a tribute to Hank Aaron on the 40th anniversary of homer No. 715, which moved him past Babe Ruth as MLB's all-time home run leader. Two different speakers during the pregame ceremony identified Aaron (not Barry Bonds) as baseball's "true" long-ball champ. Asked about that choice of words, commissioner Bud Selig said: "I'm always in a sensitive spot there, but I've said that myself, and I'll leave it at that." Read more in the Atlanta Journal-Constitution, Star-Ledger, Daily News, Journal, Record and Newsday.
• Terry Collins said Parnell made the right decision undergoing Tommy John surgery. Read more on Valverde and Parnell in the Star-Ledger, Daily News, Newsday and at MLB.com.
• Frank Viola was released from New York-Presbyterian Hospital on Tuesday, six days after undergoing open-heart surgery.
• Rafael Montero allowed three runs in five innings and Eric Campbell had a tiebreaking two-run homer in the seventh as Las Vegas beat Sacramento, 7-6. Matt Clark had a tiebreaking homer and Darrell Ceciliani had three RBIs as Binghamton beat Erie, 7-2. Savannah swept Augusta in a doubleheader, winning Game 1 on L.J. Mazzilli's walk-off walk with the bases loaded. Read the full minor-league recap here.
• Jon Heyman at CBSSports.com implores the Mets to trade Ike Davis. Writes Heyman:
Keeping Davis gives the Mets a big bat off the bench and a little security should current starter [Lucas] Duda have an injury, but in the end the current alignment is a drawback for both players. Davis is good enough to start for someone, or at least have the opportunity to start for someone. And Duda doesn't deserve to be looking over his shoulder.
• Read more on d'Arnaud in the Journal.
BIRTHDAYS: Mets bullpen catcher Eric Langill turns 35. ... Former reliever Graeme Lloyd is 47.
TWEET OF THE DAY:
Proud of Bartolo Colon for pitching an awesome game after being told his mom was diagnosed with breast cancer last Thursday. Prayers. #Mets

— Gabriel De León (@gabe_deleon) April 9, 2014
YOU'RE UP: Should the Mets trade Ike Davis ASAP?