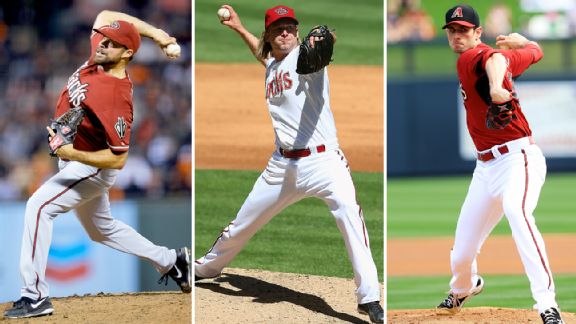 Getty Images
The Mets face Josh Collmenter, Bronson Arroyo and Brandon McCarthy during a series against the Diamondbacks at Chase Field.METS (5-7, fourth place/NL East) at ARIZONA DIAMONDBACKS (4-11, fifth place/NL West)
Monday: RHP Zack Wheeler (0-2, 5.73) vs. RHP Josh Collmenter (0-0, 2.25), 9:40 p.m. ET
Tuesday: RHP Jenrry Mejia (1-0, 4.09) vs. RHP Bronson Arroyo (1-0, 4.82), 9:40 p.m. ET
Wednesday: RHP Dillon Gee (0-0, 5.03) vs. RHP Brandon McCarthy (0-2, 7.78), 3:40 p.m. ET
Diamondbacks short hops
• After allowing nine runs in 7 1/3 innings in two starts, Randall Delgado has been reassigned to the bullpen. Josh Collmenter steps into the slot Monday against the Mets.
Collmenter made 49 relief appearances for the D-backs last season. He last started on Sept. 30, 2012. Collmenter had a four-inning save Wednesday, so he is reasonably stretched out for the starting duty.
Delgado, who began wearing glasses last year, incidentally has dropped using them because of comfort -- although it leaves his vision less than perfect.
• Bronson Arroyo signed a two-year, $23.5 million contract with the D-backs on Feb. 7. The deal includes an $11 million team option for 2016 or $4.5 million buyout. Arroyo, 37, has combined to log only 9 1/3 innings over two starts. He has reached the 200-inning plateau eight of the past nine years. The exception: 2011 with the Cincinnati Reds, when he was one inning shy.
Christian Petersen/Getty Images
Offseason acquisition Mark Trumbo leads the majors in homers and RBIs.
• Mark Trumbo leads the majors in homers (six) and RBIs (18). The left fielder was acquired from the Los Angeles Angels on Dec. 10 as part of a three-team trade that landed left-hander Tyler Skaggs back in Anaheim. Trumbo homered in four straight games April 3-6.
• Ex-Met Oliver Perez signed a two-year, $4.25 million deal with the D-backs on March 10. He has allowed six runs (five earned) on four hits, four walks and a hit batter in seven appearances spanning 5 1/3 innings.
• The D-backs signed veteran left-hander Randy Wolf on a minor-league deal Friday for pitching depth. Arizona lost 2013 NL All-Star Patrick Corbin for this season due to an elbow ligament tear that required Tommy John surgery. The D-backs have an MLB-worst 5.95 ERA. They also have allowed 20 homers. Only the Mets, with 21, have allowed more homers in the majors.
Wolf asked for his release from the Seattle Mariners last month after declining to sign an agreement that would have allowed the club to release him during the season's first 45 days without being responsible for his remaining salary. John Lannan agreed to sign that type of stipulation with the Mets.
• Outfielder Cody Ross, who suffered a dislocated right hip last August against the Mets, is a week into a rehab assignment with Triple-A Reno and may return during this series.
• Two-time Gold Glove-winning outfielder Gerardo Parra has a .340 average (36-for-106) in 31 career games against the Mets.
• Didi Gregorius, who was made available in trade talks by the D-backs, instead ended up in Triple-A, where he is now splitting time between shortstop and second base. Gregorius, who was born in Amsterdam, is hitting .357 with one homer, four RBIs and five walks in 11 games with Reno.
Chris Owings, who won the big-league shortstop job, is hitting .295 with a .340 on-base percentage after going 2-for-3 with a walk Sunday as the Los Angeles Dodgers completed a sweep in Phoenix.
• Addison Reed, who had a career-high 40 saves for the Chicago White Sox last season, was acquired on Dec. 13 for third baseman Matt Davidson. That has pushed incumbent closer/ex-Met J.J. Putz to a setup role.
• First baseman Paul Goldschmidt finished second in 2013 NL MVP voting after hitting .302 with 36 doubles, 36 homers and 125 RBIs. Goldschmidt is hitting .317 with two homers and nine RBIs so far this season.