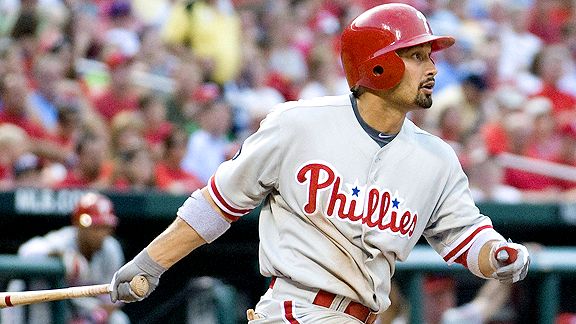 Jeff Curry/US Presswire
Phillies center fielder Shane Victorino was activated from the disabled list on Thursday.
METS (57-57, fourth place/NL East) vs. PHILADELPHIA PHILLIES (64-50, second place/NL East)
Friday: RHP R.A. Dickey (7-5, 2.65) vs. LHP Cole Hamels (7-8, 3.45), 7:10 p.m. ET
Saturday: RHP Roy Halladay (14-8, 2.34) vs. LHP Pat Misch (11-4, 3.23 at Triple-A Buffalo), 7:10 p.m. ET
Sunday: RHP Mike Pelfrey (11-6, 3.95) vs. RHP Kyle Kendrick (7-5, 4.60), 8:05 p.m. ET
Phillies short hops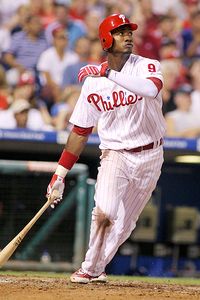 Jeff Conner/Icon SMI
Rookie Domonic Brown could be headed to the minors soon with Shane Victorino's activation from hte DL.
Center fielder Shane Victorino returned from the disabled list Thursday. He had been out since July 28 with a lower abdominal strain. Victorino did not start against the Los Angeles Dodgers, but he walked as a pinch hitter in the sixth inning and stole second. Instead, Jayson Werth continued to play center field and Ben Francisco manned right field. Second baseman Chase Utley and first baseman Ryan Howard remain on the disabled list. Fifteen different Phillies have spent time on the DL this season, tied with the Los Angeles Angels for third-most in the majors, behind Oakland (17) and Boston (16). Six Opening Day starters have been on the DL for Philadelphia, tied with the Athletics and Red Sox for most in the majors. … Left fielder Raul Ibanez lost an 18-game hitting streak Thursday. After going 0-for-4 in a 3-2 loss to the Pittsburgh Pirates on July 1, Ibanez's batting average stood at .236. Until going 0-for-5 Thursday, he was batting .364 in his next 32 games. Ibanez had batted sixth nearly every game through July 1. Since then, he primarily has batted in the No. 3 spot, and also has seen time at cleanup and second. … Rookie outfielder Domonic Brown (.233) remained on the roster with Victorino's activation, and left-handed reliever Antonio Bastardo was sent to Triple-A Lehigh Valley. Brown's demotion may be a few days away, however, so he can play regularly. In the interim, Brown is needed at the major league level because Ross Gload suffered a right groin strain Wednesday and needs time to mend without being placed on the disabled list. Left-hander Mike Zagurski could replace Brown soon, giving Phillies manager Charlie Manuel a second southpaw in the bullpen to go with J.C. Romero. . … With the trading-deadline acquisition of Roy Oswalt from the Houston Astros, the Phillies now have one of the top starting trios in the National League. Roy Halladay, Cole Hamels and Oswalt each rank in the top 20 in ERA in the NL. Only the St. Louis Cardinals and San Francisco Giants also have that many starters ranked in the top 20 in ERA in the league. Halladay, Hamels and Oswalt also each have an ERA of 3.50 or lower. Only the Cardinals and Giants have that many starters with an ERA of 3.50 or lower among all MLB teams. Led by Halladay and Hamels, the Phillies have 49 starts of at least seven innings pitched and three earned runs or fewer allowed. That was tied through Wednesday for the second-most in the majors with the Giants, two behind the Chicago White Sox. Because the starters go deep into games, the Phillies bullpen had thrown a league-low 287 innings through Wednesday and their relievers had made a league-low 298 appearances. … Right-hander Kyle Kendrick has pitched well against right-handers, but has struggled to retire left-handers this season. His opponent batting average of .228 versus righties is ranked 15th out of 74 NL pitchers (min. 200 batters faced). His opponent batting average of .330 versus lefties is ranked 82nd out of 85 NL pitchers (min. 100 batters faced). … Third baseman Placido Polanco ranks third in the NL with a .321 average. He was hitting .302 when behind in the count through Wednesday, first among all league batters with at least 150 plate appearances. … The Phillies lost six of their first seven games out of the All-Star Break to drop to 48-46. Since then, they have won 16 of 20 games, and have pulled to within two games of the first-place Atlanta Braves. That 16-4 record since July 22 is the best in the majors.
Matchups
Dickey vs. Phillies (career: 1-1, 4.00 ERA)
Brian Schneider .750, 1 RBI, 4 AB
Ross Gload .667, 1 RBI, 3 AB
Ryan Howard .667, 3 AB
Jayson Werth .500, 1 HR, 1 RBI, 6 AB
Mike Sweeney .500, 1 RBI, 6 AB
Wilson Valdez .500, 2 AB
Jimmy Rollins .333, 3 AB
Carlos Ruiz .333, 3 AB
Placido Polanco .313, 2 RBIs, 16 AB
Raul Ibanez .308, 2 HRs, 5 RBIs, 13 AB
Greg Dobbs .167, 6 AB
Domonic Brown .000, 2 AB
Juan Castro .000, 2 AB
Ben Francisco .000, 2 AB
Cody Ransom .000, 2 AB
Shane Victorino .000, 2 AB
Misch vs. Phillies (career: 0-1, 5.09)
Carlos Ruiz .333, 1 RBI, 3 AB
Jimmy Rollins .200, 1 HR, 2 RBIs, 5 AB
Jayson Werth .143, 7 AB
Shane Victorino .111, 1 RBI, 9 AB
Ryan Howard .111, 9 AB
Raul Ibanez .000, 2 AB
Greg Dobbs .000, 1 AB
Pelfrey vs. Phillies (career: 5-3, 4.83 ERA)
Juan Castro 1.000, 2 RBIs, 1 AB
Greg Dobbs .538, 1 HR, 3 RBIs, 13 AB
Ryan Howard .407, 1 HR, 3 RBIs ,27 AB
Shane Victorino .276, 1 HR, 3 RBIs, 29 AB
Raul Ibanez .263, 1 HR, 5 RBIs, 19 AB
Jimmy Rollins .261, 1 HR, 4 RBIs, 23 AB
Jayson Werth .250, 1 RBI, 24 AB
Carlos Ruiz .235, 2 RBIs, 17 AB
Brian Schneider .167, 6 AB
Ross Gload .000, 5 AB
Placido Polanco .000, 5 AB
Ben Francisco .000, 1 AB
Wilson Valdez .000, 1 AB
Hamels vs. Mets (career: 2-6, 3.71 ERA)
Luis Castillo .385, 2 RBIs, 13 AB
Ike Davis .333, 3 AB
David Wright .310, 1 HR, 3 RBIs, 29 AB
Angel Pagan .304, 1 HR, 4 RBIs, 23 AB
Jeff Francoeur .298, 2 HR, 4 RBIs, 47 AB
Carlos Beltran .292, 2 HR, 3 RBIs, 24 AB
Jose Reyes .240, 2 RBIs, 25 AB
Henry Blanco .167, 6 AB
Mike Hessman .000, 3 AB
Ruben Tejada .000, 3 AB
Halladay vs. Mets (career: 4-2, 4.46 ERA)
Chris Carter 1.000, 1 RBI, 1 AB
Josh Thole .667, 3 AB
Jose Reyes .545, 11 AB
Henry Blanco .400, 5 AB
Carlos Beltran .355, 1 HR, 7 RBIs, 31 AB
Fernando Martinez .333, 3 AB
Angel Pagan .250, 2 RBIs, 8 AB
David Wright .222, 1 RBI, 9 AB
Ike Davis .200, 1 RBI, 5 AB
Jeff Francoeur .167, 6 AB
Luis Castillo .125, 8 AB
Ruben Tejada .000, 3 AB
Kendrick vs. Mets (career: 2-2, 3.34 ERA)
Josh Thole 1.000, 3 AB
Jeff Francoeur .409, 1 HR, 3 RBIs, 22 AB
Jose Reyes .357, 1 RBI, 14 AB
Angel Pagan .333, 2 RBIs, 9 AB
Carlos Beltran .300, 1 HR, 1 RBI, 10 AB
David Wright .200, 1 HR, 2 RBIs, 15 AB
Luis Castillo .167, 6 AB
Ike Davis .000, 1 AB
Last series results:
Phillies won 2-1 at Citizens Bank Park, Aug. 6-8 (AP game recaps)
Phillies 7, Mets 5: With their big boppers out of the lineup, the Philadelphia Phillies keep finding ways to continue their playoff push. Carlos Ruiz singled in the go-ahead run during a six-run eighth inning and Philadelphia won its fifth straight win. "It was a great team win," said newly acquired Mike Sweeney, who got two hits in the eighth. Both starters pitched well, though neither stuck around for a decision. Chad Durbin (3-1) tossed a scoreless inning for the win. Bobby Parnell (0-1) didn't retire any of the four batters he faced in the eighth. After pinch hitter Mike Hessman hit a three-run homer off J.C. Romero with two outs in the ninth, Brad Lidge got the final out for his 13th save in 17 chances. The Mets wasted another strong outing by Jonathon Niese. The 23-year-old lefty allowed one run and four hits, striking out seven in seven innings. Philadelphia's Joe Blanton allowed two runs and seven hits in seven innings in his best outing this season. The teams hadn't played each other since the Mets shut out the Phillies in three straight games in New York on May 25-27. Despite being without All-Stars Ryan Howard and Chase Utley and Shane Victorino, the Phillies have improved to a season-best 13 games above .500 at 61-48. Once Niese left, the Phillies rallied against Parnell and Pedro Feliciano in the eighth. Sweeney led off with a single and went to third on Jayson Werth's single. Ben Francisco's soft single to left-center drove in Sweeney to tie it at 2. Ruiz followed with an RBI single up the middle. Ruiz hit a tiebreaking homer in the 10th inning of a 5-4 win at Florida the previous night. He's batting .302 this year, 56 points higher than his career average of .246 entering the season. Feliciano then came in to face Wilson Valdez, who reached on a bunt single to load the bases. Ross Gload walked to force in a run and Jimmy Rollins singled in another run. After Placido Polanco's sacrifice fly, Sweeney delivered an RBI single for his second hit of the inning and a 7-2 lead. The Phillies got Sweeney from Seattle two days earlier. The five-time AL All-Star will help fill in for Howard, who was out with an ankle injury. Niese allowed a run in the first on Polanco's RBI double but nothing else. The 23-year-old lefty lowered his ERA to 3.63 by allowing one run or less for the 10th time in 20 starts. Josh Thole's RBI single in the fourth gave the Mets a 2-1 lead. The Mets tied it at 1 in the third when Jose Reyes hit a two-out single to score Jeff Francoeur, who led off with a single.
Mets 1, Phillies 0: Jeff Francoeur delivered for the New York Mets and for a friend. When popular and well-respected infielder Alex Cora was released by the team on Saturday afternoon he told Francoeur to "hit a rocket" that night against the Philadelphia Phillies. Francoeur's homer leading off the seventh was New York's only run, and Johan Santana made it stick by allowing five hits in 7 1/3 innings to lead the Mets. For one swing, Francoeur got his Ruthian result, and it traveled just over the right-field wall. It came on a day when he was told by manager Jerry Manuel that he would platoon with Fernando Martinez, who was called up with second baseman Ruben Tejada. Francoeur also hit a game-winning home run on Aug. 3 off Atlanta's Billy Wagner. Francisco Rodriguez got the final five outs for his 24th save in 29 chances as the Mets ended Philadelphia's five-game winning streak and 12-game home streak. Lefties Santana (9-6) and Cole Hamels traded scoreless frames through the first six innings. Santana struck out six, walked three and didn't allow a hit until Placido Polanco singled with two outs in the sixth. Hamels (7-8) had given up five hits heading into the seventh with nine of his 11 strikeouts before Francoeur led off with his 11th homer just over the right-center field fence. Reliever Chad Durbin loaded the bases in the eighth, but escaped by striking out Francoeur on a high fastball. The Phillies then took their turn to threaten in the bottom of the eighth. Jimmy Rollins and Ibanez singled, with Ibanez extending his hitting streak to 15 games. Santana made a difficult play on Polanco's sacrifice attempt to the third-base side of the mound, then fired to David Wright for a crucial force out. Anticipating a bunt, which had been called for by Phillies manager Charlie Manuel, Santana said he threw a change up to give himself more time to react. Mets manager Jerry Manuel then went to Rodriguez. He walked Jayson Werth with two outs, but retired Ross Gload on a grounder to second. After he missed with a changeup on 2-2, he returned with another.
Phillies 6, Mets 5: Raul Ibanez confesses that he searched everywhere to rediscover his hitting stroke. The answer may have been floating in front of his face. Ibanez sparked a five-run third inning with a three-run homer off knuckleballer R.A. Dickey, and the Philadelphia Phillies pounded out a dozen hits to support Roy Halladay. Jayson Werth had three hits, including a solo homer, and Brian Schneider and Ross Gload also drove in runs for Philadelphia, which has won six of its last seven. Halladay (14-8) struggled on an 88-degree afternoon at least by his standards allowing five runs on nine hits in seven innings. Phillies closer Brad Lidge worked around a leadoff single by Josh Thole for his 14th save in 18 opportunities. Halladay had allowed one run of fewer in five of his six outings, posting a 1.50 ERA during that span. He retired 12 of 13 batters following a first-inning single by Ike Davis, before Jose Reyes began the sixth with a double and scored on Angel Pagan's single. New York made the score 6-5 in the seventh on an RBI groundout by rookie Ruben Tejada and pinch double by Chris Carter, but Halladay navigated through the inning with the lead. The Philadelphia bullpen shut down the Mets. Dickey (7-5) failed to go at least five innings for the first time in 16 starts. He allowed six runs four earned in three innings. Carlos Beltran struck out three times and has just two hits in his last 20 at-bats, and manager Jerry Manuel suggested afterward that he may give his center fielder a day off. New York struck out 11 times for the second straight game. The Mets came out aggressive against Halladay. Reyes began the game with a slicing line drive and stretched it into a double against right-fielder Ben Francisco. Reyes then perfectly read Pagan's floater over second base, and raced around to score the game's first run. Pagan would then steal second and third, and scored on an infield hit by Davis. Werth homered in the second inning before Philadelphia scored five times in the third inning. Gload's single brought in Jimmy Rollins, and Ibanez followed with his three-run shot. Schneider added an RBI single later in the inning. With the lead, Halladay returned more to his normal self. Like Ibanez, the Phillies have been rolling. Despite losing three starters first baseman Ryan Howard, second baseman Chase Utley and center fielder Shane Victorino the Phillies have won 14 of 17 games, charging from seven games back of NL East-leading Atlanta to within two games.