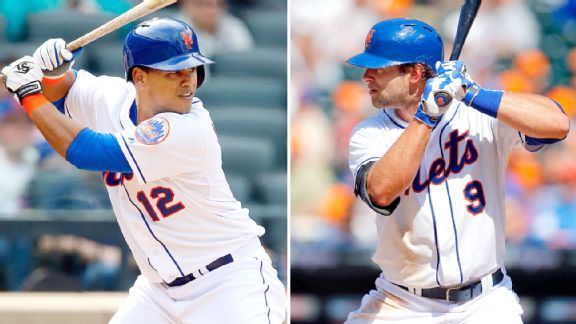 Jim McIsaac/Getty Images
Juan Lagares will land on the DL and Kirk Nieuwenhuis will be promoted Tuesday.PHOENIX -- A day after Juan Lagares pulled his right hamstring running to first base, the slick-fielding center fielder will land on the disabled list Tuesday.
The Mets, who likely will be without Curtis Granderson for at least a few days as well, will officially add Kirk Nieuwenhuis from Triple-A Las Vegas.
Nieuwenhuis, 26, was hitting .310 with two homers and eight RBIs in 42 at-bats with the 51s while appearing in nine games in left field and two games in center field. He had a strong spring training as well, hitting .256 with a .370 on-base percentage and driving in 10 runs in 39 at-bats.
Chris Young (quadriceps) is due to return from the disabled list Friday when he is eligible to be activated, so Nieuwenhuis' stay may be brief. Young has reached base safely in nine of 10 plate appearances through two rehab games with Las Vegas.
Granderson suffered bruises to his left forearm, rib cage and knee while colliding with the right-field wall in the first inning Monday. He departed the series opener in the sixth inning. Officially, Granderson is day to day.
The injury has come at an inopportune time for Lagares. He had extended his hitting streak to nine games Monday and been demonstrating he merited staying in the lineup when C.Y. returned from the disabled list for the weekend series against the Atlanta Braves at Citi Field.