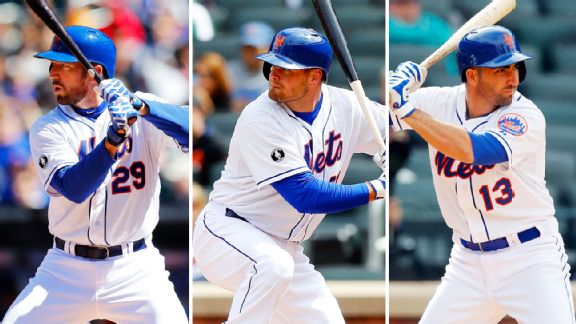 Getty Images
Ike Davis, Lucas Duda and Josh Satin should be unaffected by Friday's roster decision.PHOENIX -- The Mets need to clear a roster spot Friday when Chris Young returns from the disabled list. Still, GM Sandy Alderson offered no indication the Mets would use the opportunity to demote a first baseman and alleviate crowding there.
"I wouldn't say that's a primary consideration," Alderson said.
Although Lucas Duda has been declared the primary first baseman, Ike Davis has started there once each series so far this season. That pattern continued Wednesday, with Davis in the starting lineup against the Arizona Diamondbacks.
Josh Satin has started all three games against left-handed pitchers.
"There's one first baseman and two guys off the bench," Alderson insisted. "So I don't really look at them as all first basemen. If you're referring to Josh Satin, he can play a number of positions, and as a right-handed hitter off the bench. And, right now, Ike fills a role as a left-handed hitter off the bench."
Although Duda is hitting .364 (8-for-22) with a homer and four RBIs in his past five starts, Terry Collins indicated he started Davis on Wednesday for two reasons: Davis has four career homers in 36 at-bats at Chase Field, and the manager felt it appropriate to give Davis one start in his hometown.
So who goes when Young is added to the roster? The two candidates would appear to be lefty-hitting Kirk Nieuwenhuis and righty-hitting Andrew Brown, with Brown (.150, 1 HR entering Wednesday's game) perhaps the more likely to depart. Alderson said a roster decision, even internally, remains unresolved.