NEW YORK
FIRST PITCH: With the Atlanta Braves having left town, the task gets no easier for the Mets.
The defending National League champion St. Louis Cardinals now visit Citi Field for a four-game series beginning Monday.
Jenrry Mejia, confident a blister issue on his right middle finger is behind him, opposes left-hander Tyler Lyons in the 7:10 p.m. series opener. Lyons (2-0, 3.32 ERA at Triple-A Memphis) replaces Joe Kelly, who landed on the disabled list with a left-hamstring strain.
With the Mets facing a southpaw, Josh Satin figures to start at first base.
Monday's news reports: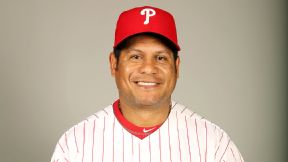 Robert Rogers/MLB Photos/Getty Images
Bobby Abreu spent spring training with the Phillies, but was released in March.
• Bobby Abreu is getting the call to the big leagues. Abreu, 40, is due to join the Mets on Monday and is expected to serve as a lefty bat for the bench. He last appeared in the majors in 2012 with the Los Angeles Dodgers. Abreu did not play in 2013, but worked out and dropped weight. Abreu then played for Mets hitting coach Dave Hudgens during winter ball in Venezuela, and the Mets courted him during the offseason as a free agent.
Abreu instead selected the Philadelphia Phillies, who ended up releasing him in March. Abreu at that point signed with the Mets and reported to Triple-A Las Vegas, where he hit .395 (15-for-38) with four doubles, one homer and nine RBIs. With the 51s, he appeared in four games as a designated hitter and four games in right field. He otherwise pinch hit.
The Mets did not announce a corresponding move. Since Abreu is a lefty hitter, Kirk Nieuwenhuis may be the most vulnerable. The alternative would appear to be demoting Andrew Brown, who repeatedly has staved off such reassignments because of issues such as Chris Young landing on the DL and Ike Davis getting traded.
Read more in the Daily News.
• With Jose Valverde having surrendered four homers in a three-appearance span, Terry Collins made a change at the back end of the bullpen. Kyle Farnsworth steps into the closer's role. Farnsworth had been released by the Mets with a week to go in spring training. He was re-signed days later and assigned to Las Vegas, but never pitched there because Bobby Parnell's injury created a vacancy in the big-league bullpen. Read more in the Post, Newsday, Star-Ledger, Record and at MLB.com.
• Curtis Granderson had a throwing error from right field Sunday that allowed a run to score. He also went 0-for-6, upping his hitless streak to 16 at-bats and dropping his average to .127. Still, Granderson ended up getting mobbed on the field by celebrating teammates after producing a walk-off sacrifice fly in the bottom of the 14th. That allowed the Mets to salvage the series finale against the Braves with a 4-3 victory. The Mets (9-9) returned to .500.
Daisuke Matsuzaka, working on back-to-back days for the first time since 2004 in the Japan Series, tossed three no-hit relief innings. Valverde earned the win with a scoreless top of the 14th. Braves second baseman Dan Uggla helped by committing two errors, including failing to turn a would-be inning-ending double play on Lucas Duda in the sixth that allowed the tying run to score. The maligned bullpen tossed eight scoreless innings in relief of Zack Wheeler (6 IP, 6 H, 3 R, 3 ER, 3 BB, 6 K).
Read game recaps in the Post, Daily News, Times, Star-Ledger, Record, Newsday and MLB.com.
Read more on Matsuzaka in Newsday.
Mike Stobe/Getty Images
Curtis Granderson went 0-for-6 in the No. 2 hole Sunday, but is swarmed by teammates after delivering a walk-off sacrifice fly.
• The struggling Granderson has been bounced from the cleanup spot by Collins, but instead ended up in the No. 2 hole Sunday. That is the slot Granderson most frequently was assigned in 2011 and '12 while with the Yankees.
Collins opted to place Daniel Murphy in the No. 4 hole over Duda. The manager cited Murphy's .307 average in 60 career games in the cleanup spot entering Sunday. And Collins did not want to place too much pressure on Duda too soon, even though Davis has been traded and Duda should know he is unthreatened for the first-base job against right-handed pitching.
Columnist David Lennon in Newsday advocates placing Duda in the No. 4 hole now. Writes Lennon:
The Mets can't play the sensitive card with him any longer. They chose Duda over Ike Davis -- who, by the way, batted cleanup Sunday for the Pirates -- and that means trusting him to do the job.
And while we're on the subject of numbers, Duda's best offensive stats have come in the No. 4 spot. In 110 games there, Duda has a slash line of .276/.373/.453 with a home run every 25 plate appearances. So don't tell us Duda can't handle the pressure. As long as Granderson is slumping, Collins is going to have to scrape up offense from somewhere. And in this thin lineup, Duda has to become the hitter the Mets say he can be -- not look for shelter.
Read more in the Post.
• In the lone Easter Sunday minor-league game among Mets affiliates, Danny Muno, Allan Dykstra and Abreu homered and Jacob deGrom allowed three runs in five innings as Las Vegas beat El Paso, 11-4. Jeff Francoeur pitched a 1-2-3 eighth for the Chihuahuas. Reliever Zack Thornton, acquired from the Pittsburgh Pirates with a player to be named for Davis, made his organization debut. Thornton allowed a solo homer but no other damage in two innings. Read the minor-league recap here.
BIRTHDAYS: Jesse Orosco turns 57. ... Jeff Keppinger is 34. ... Ronny Paulino is 33.
TWEET OF THE DAY:
@BravesJordan #Braves #bartolocolon #Mets pic.twitter.com/2HGlsRQJ0M

— JG (@JGDrFeelgood) April 20, 2014
YOU'RE UP: Can Bobby Abreu help the Mets? Or would you rather see Kirk Nieuwenhuis and Andrew Brown remain with the big-league club?