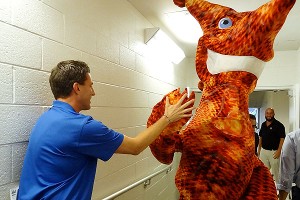 Adam Rubin
Kevin Burkhardt is leaving SNY after the 2014 season.
NEW YORK -- Kevin Burkhardt has confirmed he is leaving SNY at the end of the current season to join Fox Sports full time in an NFL, MLB and college basketball role.
Burkhardt's SNY contract expires at the end of the season.
Steve Gelbs increasingly has been filling in for Burkhardt on weekends, when Burkhardt's Fox duties conflict.
Burkhardt has served as Mets field reporter on SNY for eight seasons.
He will move to Los Angeles.
"It's pretty crazy," Burkhardt told Don Burke in the Post. "Talking about it, I can't even believe it. It's totally nuts. Obviously, the job, for me, is incredible. I couldn't have scripted it any better if I tried. Sometimes in life you're looking forward to something completely different. It has been quite a couple of years."