NEW YORK -- Paul DePodesta, the New York Mets' vice president of player development and amateur scouting, vehemently denied a report published Friday night that he had slighted the 1986 Mets in his initial staff meeting upon joining the organization alongside general manager Sandy Alderson.
"I'm tired of hearing about the '86 Mets," DePodesta said at a staff meeting, Mike Puma reports in the New York Post.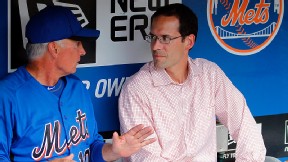 Paul J. Bereswill/Associated Press
Paul DePodesta denies speaking ill of the '86 Mets.
The report comes a day after it was revealed that Mookie Wilson wrote in his memoir that the Mets organization treats him like a "hood ornament" and that the '86 Mets are marginalized from having any real impact within the organization.
DePodesta told ESPNNewYork.com about the alleged comment: "That's not true at all. I have reverence for the '86 Mets. Why wouldn't I? If anything, I probably said that we need to work hard to create new memories for our fans like the '86 team did. In fact, I've often shared that during my first few months on the job just how many people associated with the Mets spoke with such passion about that time, and I was struck what a salient moment it had been in their lives. I have too much respect for everything that has come before me in every organization I've been in to say something like that."
The Post went on to quote anonymous '86 Mets slamming DePodesta and the front office. Writes Puma:
Just about any member of that fabled world championship team who still had contact with the organization at the time heard about the comment. Regardless of the intent, many of the '86 Mets took it as a sign of disrespect from one of general manager Sandy Alderson's top lieutenants.
As one of the '86 Mets said Friday: "All those championship teams [DePodesta] played on at Harvard."
Said another member of the '86 Mets, referring to Alderson's Oakland pedigree: "Those guys, the last time they had a good team, we were playing."