NEW YORK -- Dillon Gee has three complete games on his résumé. Two were six-inning efforts, in games shortened by rain. And the other Gee undoubtedly would like to forget, although Terry Collins referenced it Sunday.
Last June 17, Gee took a shutout bid into the ninth inning at Turner Field. Three batters later, after a one-out single by Justin Upton and two-run homer by Freddie Freeman, Gee had suffered a walk-off 2-1 loss to the Atlanta Braves.
So with Gee's pitch count at 110 after eight innings and the Mets holding a four-run lead Sunday at Citi Field against the Miami Marlins, Collins was content to have Carlos Torres handle the final three outs.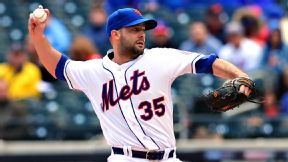 Brad Penner/USA TODAY Sports
Dillon Gee tossed eight scoreless innings Sunday against the Marlins.
"The one thing I didn't want to have happen is the fourth time through the lineup to have him hang a slider at the 113th pitch and have something go into the seats, because that lineup can do it to you," Collins said after the 4-0 rubber-game win.
Gee's line Sunday: 8 IP, 3 H, 0 R, 0 ER, 4 BB, 6 K.
One of those hits was a popup between the mound and the plate in which the infielders miscommunicated, the baseball dropped and Jarrod Saltalamacchia was credited with an infield single.
Collins had pulled Gee after 72 pitches in Arizona two starts ago. After that outing, Gee mentioned in an interview that he needed to regain the trust of the staff and make them believe he would not melt down late in games. Collins was aware of that comment.
Entering Sunday, Gee opponents had a .198 batting average in Gee's first 50 pitches and a .275 average during the rest of his outing.
So games like Sunday, when Gee limited the Marlins to three hits in eight scoreless innings, should help regain the trust of the staff that he should be allowed to pitch deep into games. Gee, the Opening Day starter, is now 2-1 with a 2.88 ERA.
"They help," Gee said. "It's not something you just do once and say, 'I can go deep every time.' That is my only goal every time I take the mound -- try to get as deep as I can in the game and give us a chance to win. I'm happy when that happens. And we won today, so I'm happy."
Said Collins: "He's a good pitcher. I've said it before: When we were trying to figure out who was going to pitch Opening Day after Jon [Niese] went down in spring training, there was no question in my mind who it was going to be. Dillon Gee deserves to be out there. You're going to look up at the end of the year and this guy is going to have 15, 16 wins, because he can pitch. If he gets some run support, he wins baseball games."