PHILADELPHIA -- Zack Thornton found plenty of familiar faces when he reported to Las Vegas after being acquired from the Pirates with a player to be named for Ike Davis. Among them were his former Triple-A Indianapolis teammates Vic Black (acquired from Pittsburgh last August for Marlon Byrd and John Buck) and Ryan Reid (a waiver claim by the Mets from that organization).
Still, when Black and Reid visited the Hoover Dam on the 51s' day off last Wednesday, Thornton passed.
"I had to go get some rest," Thornton said. "It's been a long week for me."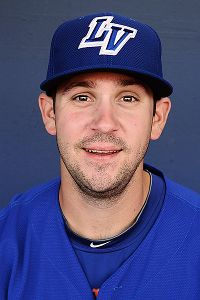 Courtesy of Las Vegas 51s
Zack Thornton
Thornton, a 25-year-old right-handed reliever, now has made three appearances since the trade. He has allowed one run on six hits and no walks while striking out three in five innings.
Thornton throws a sinker (90-91 mph) and slider (high-70s, to 80 mph). He also added a cutter this year (83-84 mph).
He comes from a low-three-quarters arm slot, which his father James taught him at an early age.
"For me, it's all about deception, hiding the ball as long as I can," Thornton said. "It's low three-quarters and 'sling' it. It's funny, when I was younger, I couldn't figure out how to throw it, so my dad taught me to throw it like a grenade. So I have kind of that long, 'slingy' arm. My arm slot just got lower and lower to where it is now."
Partly as a result of the arm angle, righties hit only .148 against Thornton last season in Triple-A, although lefties hit .318. In 13 appearances with that International League club, he had a 3.36-to-1 groundball-to-fly-ball ratio.
"He's been tough on right-handed hitters with a good sinker and slider," Paul DePodesta said.
Thornton knows plenty of Mets farmhands besides Black and Reid. He grew up with playing with fellow 51s Dana Eveland and Danny Muno in California. Also, the Pirates and Mets shared an Arizona Fall League team last offseason. Thornton became friendly with Binghamton outfielder Cory Vaughn and reliever Chasen Bradford.
"They're around the same age as me," Thornton said about Vaughn and Bradford. "Those guys were great. I still talk to them. And when I got traded they called me. It's nice knowing you have some guys in this organization that like you and have your back."
Thornton had been traded once before. Originally drafted by Oakland as a senior in the 23rd round in 2010 out of the University of Oregon, Thornton was dealt to Pittsburgh on Nov. 30, 2012 for right-handed reliever Chris Resop.
Thornton had gone undrafted as a junior at Oregon. He suffered a right shoulder injury during his sophomore season at Ventura College. He eventually had the issue surgically corrected in December of his junior year after joining the Ducks. Thornton described the procedure as releasing the capsule to allow for unhindered internal rotation.
"I probably should have waited and taken the redshirt," Thornton said about his junior season. "But I was so eager to throw. Then I came back strong my senior year and got drafted again."
As for the trade to the Mets, Thornton said he was called into the visiting manager's office in Louisville before a Triple-A game.
"I was thinking to myself, 'Did I do something wrong?'" Thornton said. "They called me and then assistant GM [Kyle Stark] was in town and told me I got traded and to keep it quiet for a little bit, until everything got out. Then it got out and my phone was blowing up."
Organization leaders
Average: Brandon Nimmo, St. Lucie, .389; T.J. Rivera, St. Lucie, .389; Matt Reynolds, Binghamton, .373; Allan Dykstra, Vegas, .371; Matt Clark, Binghamton, .347; Eric Campbell, Vegas, .343; Jeff McNeil, Savannah, .318; Wilfredo Tovar, Binghamton, .317; Phillip Evans, St. Lucie, .310; Darrell Ceciliani, Binghamton, .302.
Homers: Matt Clark, Binghamton, 6; Taylor Teagarden, Vegas, 5; Brian Burgamy, Binghamton, 4; Aderlin Rodriguez, St. Lucie, 4; Stefan Sabol, Savannah, 4.
RBIs: Aderlin Rodriguez, St. Lucie, 27; T.J. Rivera, St. Lucie, 24; Allan Dykstra, Vegas, 22; Eric Campbell, Vegas, 21; Stefan Sabol, Savannah, 21.
Steals: Jeff McNeil, Savannah, 7; Patrick Biondi, Savannah, 6; Brandon Nimmo, St. Lucie, 5; Stefan Sabol, Savannah, 5.
ERA: Robert Gsellman, Savannah, 1.48; Steven Matz, St. Lucie, 1.52; Jacob deGrom, Vegas, 1.93; Hansel Robles, Binghamton, 2.21; Domingo Tapia, St. Lucie, 2.70; John Gant, Savannah, 3.00; Darin Gorski, Binghamton, 3.05; Kevin McGowan, Savannah, 3.54; Rainy Lara, Binghamton, 3.68; Dave Eveland, Vegas, 4.29.
Wins: Jacob deGrom, Vegas, 3; Josh Edgin, Vegas, 3; Rafael Montero, Vegas, 3; Noah Syndergaard, Vegas, 3; Matt Bowman, Binghamton, 3; Rob Whalen, Savannah, 3.
Saves: Jeff Walters, Vegas, 6; Chasen Bradford, Binghamton, 4; Randy Fontanez, St. Lucie, 3; Robert Coles, Savannah, 3; Beck Wheeler, St. Lucie, 2.
Strikeouts: Rafael Montero, Vegas, 30; Dana Eveland, Vegas, 28; John Gant, Savannah, 25; Darin Gorski, Binghamton, 24.
Short hops
• Binghamton shortstop Matt Reynolds, a second-round pick in 2012 from the University of Arkansas, lost a 14-game hitting streak Tuesday. He hit .481 during that span. It marked the second-longest streak in the Eastern League this season. For the season, Reynolds has a .373 average and .455 on-base percentage.
• Princeton product Matt Bowman is 3-0 with a 1.04 ERA to start his Double-A career. He has 17 strikeouts in 17 1/3 innings. He was one out shy of qualifying for the ERA leaderboard above (0.8 innings pitched per team game).
• Matt Clark leads the Mets organization with six homers as he continues to overmatch Double-A pitching. Six long balls are the most the 27-year-old Clark has ever hit in the United States in April. He slugged 25 homers last season with Chunichi in Japan.
• Despite each going hitless Tuesday, St. Lucie's Brandon Nimmo and T.J. Rivera continue to share the Florida State League batting lead at .389. At one point last week, Nimmo reached safely in 10 out of 11 plate appearances, including seven times via walk.
• St. Lucie third baseman/first baseman Aderlin Rodriguez has four homers in his past six games. He had a combined 10 RBIs on Thursday and Friday. Rodriguez's 27 RBIs are tied with Dunedin's K.C. Hobson for the FSL lead. Since beginning the season 0-for-16, Rodriguez is hitting .281 (25-for-89).
• St. Lucie reliever Julian Hilario has struck out 10 and allowed one earned run in his past nine innings, which span five relief appearances. The 23-year-old right-hander had allowed 15 earned runs and 15 hits in his first three innings this season, over three games.
• Former supplemental first-round pick Michael Fulmer pitched five scoreless innings in a no-decision against Bradenton on Friday. He stranded runners at third base in four of his five innings. That nonetheless only shaved Fulmer's ERA to 8.00 through four Florida State League starts.
• Matt Koch did not allow a hit until the fifth inning of Monday's 7-3 St. Lucie win. He walked his first batter of the season in the third inning, after going 18 2/3 innings without a walk. Koch (pronounced Cook) only walked four batters in 82 1/3 innings last season with Savannah before getting struck in the head with a liner, which resulted in hospitalization and prematurely ended his season.
• Venezuelan infielder Jairo Perez, who had been playing in independent ball the past two seasons, is 5-for-15 with a two-run homer since returning to St. Lucie after a two-week absence to allow a hamstring injury to mend.
• Kevin McGowan, a 13th-round pick last year out of Franklin Pierce University, picked up his first professional win Tuesday by tossing 6 2/3 scoreless innings against Delmarva. That was just the latest in a series of positive pitching performances by the Savannah staff. The Gnats have a South Atlantic League-leading 2.70 ERA.
During a five-start stretch this past week, the starters had 40 strikeouts and eight walks in 29 innings:
Wednesday: Ricky Knapp (5 IP, 5 H, 1 ER, 8 K, 1 BB)
Thursday: Rob Whalen (5 IP, 4 H, 2 ER, 7 K, 2 BB)
Friday: Robert Gsellman (CG, 7 IP, 5 H, 1 ER, 7 K, 0 BB)
Friday: Miller Diaz (6 IP, 4 H, 2 ER, 8 K, 2 BB)
Saturday: John Gant (6 IP, 3 H, 1 ER, 10 K, 3 BB)
• Savannah relievers Dario Alvarez, Robert Coles, and Akeel Morris have yet to allow a run this season in a combined 39 2/3 innings. They have allowed 19 hits and 16 walks while striking out 60.
• 2013 first-round pick Dominic Smith is 5-for-13 with three doubles in his past four games to lift his average to .200 in the South Atlantic League.
• Jeff McNeil, a 12th-round pick last year out of Long Beach State, leads the South Atlantic League in doubles (nine) and is tied for the league lead in extra-base hits (13).