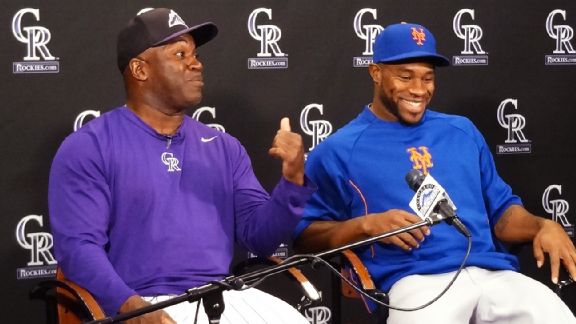 Adam Rubin
Eric Young Sr. and Jr. share a laugh before Thursday's Mets-Rockies series opener.DENVER -- This weekend is a family reunion for Eric Young Sr. and Eric Young Jr.
Junior is at Coors Field with the Mets. And Senior is in his first season as first-base coach for the Rockies.
"This is like Father's Day for me. This is special," Senior said Thursday afternoon.
They have been through this before. Senior coached first base for two seasons with the Diamondbacks, while Junior was in the division as a Rockie.
The family even got to play against each other in two spring-training games as their careers overlapped.
"That doesn't happen," Junior said. "I mean, the Griffeys were able to do that in the regular season, but even still those two moments right there for us, I know for me, emotions were swirling. I can't even imagine for him, being on defense, and hearing my name called up to the plate."
Said Senior: "I think every dad would love for their kid to do the same thing that they do and be able to talk about the same thing."
Those father-son games were Junior's highlight of their shared experience.
Senior said his highlight was while he was playing for the Dodgers, and Junior was a bat boy and greeted him at home plate after a home run.
"We've still got that picture up. That was against the Braves," Junior chimed in. "He was with the Dodgers. Javy Lopez was catching. ... That was a go-ahead homer, too. Eighth inning."