MIAMI -- Terry Collins figured Giancarlo Stanton was about to get nailed at the plate when Marcell Ozuna sent a line drive to modest depth in center field and Stanton tagged up and headed home in the bottom of the ninth.
"I did," Collins said. "I looked at Stanton right away and he didn't break. He had to go back and tag. I said, 'We're going to throw him out.' He usually does that."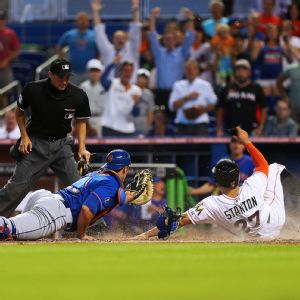 Mike Ehrmann/Getty Images
Giancarlo Stanton slides into home after Juan Lagares' throw is off the mark and Anthony Recker cannot hold on.He is Juan Lagares, who finished with a franchise-rookie-record 15 outfield assists last season.
Instead, Lagares made a multi-hop throw slightly up the first-base line. Anthony Recker could not handle the ball anyway, Stanton was safe and the Marlins produced their seventh walk-off win against the Mets since Marlins Park opened in 2012.
That's the most walk-off wins by one MLB team against another over the past three seasons, according to the Elias Sports Bureau.
Wednesday's final score: Marlins 1, Mets 0.
"It was a little more up the line than you'd like. It was kind of, obviously, one of those do-or-die plays because the game's on the line," Recker said. "I wasn't able to come up with it, but looking at the replay, I don't know if I would have had him anyway. If I caught it clean, looking at the replay -- because I did go and try to make a tag even without the ball -- it looked like he might have just gotten in there.
"In that case, because the ball was a little bit up the line, I couldn't really see [Stanton]. I was just trying to get over to him as quickly as I could."
Lagares said he, too, thought he had a shot.
"I just tried to do what I can and throw quick to home," Lagares said.
Said Recker: "I have all the confidence in the world in Juan. I still do. This doesn't change anything. Juan is the best center fielder I've ever seen. He'll keep doing what he does, and I guarantee he'll make the throw next time."