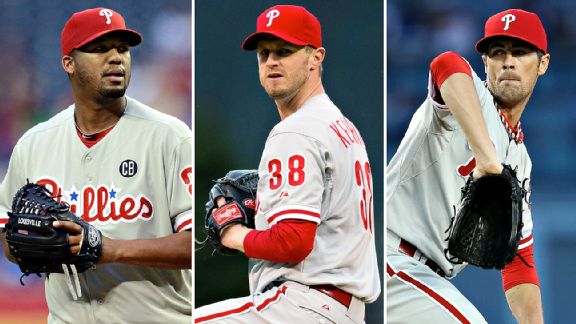 Getty Images
The Mets face Roberto Hernandez, Kyle Kendrick and Cole Hamels this weekend at Citi Field.METS (16-17, fourth place/NL East) vs. PHILADELPHIA PHILLIES (15-18, fifth place/NL East)
Friday: RHP Jenrry Mejia (3-0, 5.23) vs. RHP Roberto Hernandez (2-1, 4.50), 7:10 p.m. ET
Saturday: RHP Dillon Gee (3-1, 2.51) vs. RHP Kyle Kendrick (0-3, 3.58), 7:10 p.m. ET
Sunday: LHP Jonathon Niese (2-2, 1.82) vs. LHP Cole Hamels (0-2, 7.02), 1:10 p.m. ET
Phillies short hops
• Jimmy Rollins tweaked his right groin muscle Sunday against the Washington Nationals. He has yet to return to shortstop. In a home-and-home four-game series against Toronto, Rollins pinch-hit Monday and Tuesday in Philly. He then served as the designated hitter on Wednesday and Thursday in the American League ballpark.
Kathy Willens/Associated Press
Jimmy Rollins has been dealing with a groin issue.
Freddy Galvis has started three of the past four games at shortstop, with Jayson Nix starting the other game. After going hitless in three at-bats Thursday, Galvis is hitting .048 (2-for-42) this season.
Rollins is 28 hits shy of matching the Phillies' all-time record, held by Mike Schmidt with 2,234. Richie Ashburn ranks second with 2,217 hits as a Phillie, from 1948-59.
• Roberto Hernandez formerly was known as Fausto Carmona. He signed with the Phillies as a free agent for one year at $4.5 million on Dec. 12. After spending seven seasons with the Cleveland Indians, Hernandez went 6-13 with a 4.89 ERA in 32 appearances (24 starts) with the Tampa Bay Rays last season.
• Ex-Met Marlon Byrd faces the Mets at Citi Field for the first time since signing with the Phillies for two years, $16 million on Nov. 12. Byrd homered last Tuesday against Jonathon Niese in the first meeting between the clubs since his defection. He went 2-for-4 Thursday in Toronto to up his season totals to .317/.348/.516.
• The Phillies have been held to one run or fewer in four of their past eight games, beginning with the Mets' 6-1 win at Citizens Bank Park last week.
Except for Byrd, they are getting woeful offensive production from their outfield. Center fielder Ben Revere (.283/.295/.317) did not start Thursday, with Tony Gwynn Jr. instead getting the nod. Soon, Byrd could shift to center field, displacing Revere from the starting lineup. That likely would coincide with Darin Ruf returning from a season-opening DL stint. Ruf (strained left oblique) has started a rehab assignment. Ruf had 14 homers in 251 at-bats last season.
Left fielder Domonic Brown is hitting .226 with one homer and 11 RBIs in 115 at-bats.
• Cole Hamels needs one win for 100 in his career. He followed up the outing in which he allowed six runs in 4 2/3 innings against the Mets by surrendering five runs on 10 hits and a walk in six innings against the Jays on Tuesday. Hamels surrendered homers to Edwin Encarnacion and Colby Rasmus in that outing as his ERA swelled to 7.02. Hamels has made three starts overall since returning from a season-opening trip to the disabled list for biceps tendinitis.
• Closer Jonathan Papelbon has tossed 12 straight scoreless innings.