NEW YORK -- Within a year of being drafted in the second round by the Detroit Tigers out of Ole Miss in 2008, right-hander Cody Satterwhite had risen to Double-A.
Five years, two shoulder surgeries and a stop in independent ball later, he is back in the Eastern League, this time with the Binghamton Mets.
More of a pitcher this time around because of maturity and somewhat diminished velocity, the 27-year-old Satterwhite opened the season with 10 straight scoreless relief appearances spanning 16 2/3 innings for the B-Mets.
He currently is 1-0 with a 0.89 ERA (2 ER, 20.1 IP) through 13 appearances. Opponents are hitting .169 against him. He has allowed 11 hits, 10 walks and hit one batter while striking out 18.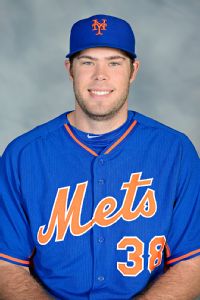 Courtesy of New York Mets
Cody Satterwhite
"It is gratifying, just because of the path I took with two surgeries and then having to go to indy ball," Satterwhite said. "… The whole process, it's helped me in the long run."
The Mets, like other organizations, scout the independent leagues for talent. Still, Satterwhite believes his teammate with the Sioux City X's in the independent American Association last season, Wally Backman Jr., put a good word in to his father -- Triple-A manager Wally Backman -- and got him on the Mets' radar.
After producing a 0.65 ERA and one save in 27 2/3 innings last season with Sioux City, the Mets purchased his rights. Satterwhite finished the year with St. Lucie, producing a 2-2 record and 2.78 ERA in 22 2/3 innings.
"I got hurt at the end of the year, had shoulder problems," Satterwhite recalled about his Double-A season in 2009 with Erie. "I went to big-league camp [the next spring training] and just fell apart in big-league camp, trying to do too much, not telling anybody I was hurt. I ended up having labrum surgery in 2010. I didn't have the surgery until July 2010. I missed that season.
"I came back in July [2011]. It was one year from my surgery. I missed that season. By then it had been two years. From the surgery, my arm just kind of stayed tight. I would throw, and then I'd have to sit out a couple of days, being too sore. Finally, in 2012, I ended up having another surgery to clean up the scar tissue in the shoulder. That's when the Tigers released me.
"I told myself, if the surgery works, I'll give it another try. If it's meant to be, then I'll continue to play baseball. If I can't come back from it, then at least I can function in the everyday world. I had the surgery and my arm felt great. After the surgery I was throwing within one month. I was on the mound in a couple of months. I was taking it real slow to make sure I was ready to go back and show teams.
"That offseason, I threw in front of some teams. With the track history -- I hadn't thrown [competitively] in three years – all of them said you'd have to show us that you're healthy, that you can throw back-to-back days and put up some numbers.
"The best bet was to go to indy ball. I got picked up by Sioux City. I had a guy that I played with, with the Tigers, Josh Rainwater, was actually on the team. He put in a word for me and they picked me up and I was in Sioux City in 2013."
Before the shoulder surgeries ever arose, Satterwhite's fastball used to register 96-98 mph. Now he sits at 91-95 mph, with a slider and split-finger.
"I've been able to pitch better," Satterwhite said. "As a hard thrower, you get into a rhythm of relying on it. I was in this league at 22. I was throwing very hard and I just relied on that to get me through. Some days I would do very well, and I'd get hit around the other games. Being able to pitch and know how to set up guys and know your role, and being able to throw back-to-back days and being healthy, I think that's helped me a lot."
Organization leaders
Average: T.J. Rivera, St. Lucie, .392; Eric Campbell, Vegas, .355; Matt Reynolds, Binghamton, .333; Wilfredo Tovar, Binghamton, .333; Brandon Nimmo, St. Lucie, .329; Allan Dykstra, Vegas, .317; Jeff McNeil, Savannah, .316; Zach Lutz, Vegas, .315; Wilmer Flores, Vegas, .307; Matt Clark, Binghamton, .307.
Homers: Taylor Teagarden, Vegas, 8; Matt Clark, Binghamton, 7; Andrew Brown, Vegas, 6; Allan Dykstra, Vegas, 6.
RBIs: Allan Dykstra, Vegas, 36; Aderlin Rodriguez, St. Lucie, 33; T.J. Rivera, St. Lucie, 31; Zach Lutz, Vegas, 30; Stefan Sabol, Savannah, 27.
Steals: Patrick Biondi, Savannah, 9; Dilson Herrera, St. Lucie, 8; Jeff McNeil, Savannah, 7.
ERA: Steven Matz, St. Lucie, 2.09; Kevin McGowan, Savannah, 2.25; John Gant, Savannah, 2.31; Jacob deGrom, Vegas, 2.58; Matt Koch, St. Lucie, 2.88; Darin Gorski, Binghamton, 3.03; Greg Peavey, Binghamton, 3.16; Ricky Knapp, Savannah, 3.41; Rainy Lara, Binghamton, 3.48; Rafael Montero, Vegas, 3.67.
Wins: Jacob deGrom, Vegas, 4; Rafael Montero, Vegas, 4; Noah Syndergaard, Vegas, 4; Matt Koch, St. Lucie, 4; John Gant, Savannah, 4; Rob Whalen, Savannah, 4.
Saves: Robert Coles, Savannah, 8; Jeff Walters, Vegas, 6; Chasen Bradford, Binghamton, 6; Randy Fontanez, St. Lucie, 5; Beck Wheeler, St. Lucie; 5.
Strikeouts: Noah Syndergaard, Vegas, 46; Rafael Montero, Vegas, 41; Darin Gorski, Binghamton, 36; Steven Matz, St. Lucie, 36; Akeel Morris, Savannah, 34.
Short hops
• Left-hander Josh Edgin (3-0, 4.97 ERA) has landed on the temporary inactive list with Las Vegas for a joyous reason. His wife gave birth Tuesday morning.
• Right-hander Tyler Bashlor, an 11th-round pick in 2013 out of South Georgia College, underwent Tommy John surgery Tuesday.
• Savannah right-hander Rob Whalen (4-0, 1.80 ERA), who required a minor surgical procedure for an infection on his pitching hand, was due to get the stitches removed Wednesday morning.
• With Jacob deGrom and Rafael Montero promoted, Vegas' rotation needs an infusion. Giancarlo Alvarado will fill one rotation spot. The other is to be determined. Joel Carreño took a spot turn Monday in place of deGrom and was able to contribute a 72-pitch effort (3 ER in 5.2 IP). John Lannan still has not reported to the Triple-A club due to what Mets officials have labeled a family matter. Alvarado went 5-4 with a 3.49 ERA in 12 starts for Vegas last season after being added out of the Mexican League.
• Vic Black's control continues to be inconsistent. He has walked a combined five batters and issued a pair of wild pitches during his past two relief appearances. Despite a 1.74 ERA this season with the 51s, Black has walked 15 (one intentional) and hit a batter in 15 2/3 innings.
• Cory Mazzoni should throw off a mound this weekend for the first time since leaving a spring-training game with what subsequently was diagnosed as a lat-muscle injury.
• Binghamton Right-hander Greg Peavey has been named Eastern League Pitcher of Week. Peavey, 25, has limited opponents to one run on eight hits and two walks while striking out 10 in 15 innings over his past two starts.
• Amed Rosario, the 18-year-old shortstop given the organization's largest-ever signing bonus for an international teenager ($1.75 million), is opening eyes at the team's Florida complex. Rosario has a .385 average, .437 on-base percentage and 1.150 OPS in extended spring training games and may end up ticketed for Brooklyn, which opens play June 13 at Staten Island. Also getting positive reviews in extended spring training: Brandon Brosher, who has been converted from outfielder to catcher. Brosher, 19, is a 36th-round pick last year out of high school in Spring Hill, Fla. Even David Wright reportedly was impressed with Brosher's power after taking batting practice with him in Port St. Lucie early this year.
• Matt Koch, whose season prematurely ended last year when he was struck in the head with a line drive with Savannah, has tossed 11 2/3 scoreless innings in his last two starts with St. Lucie. While the third-round pick in 2012 out of Louisville does not have "overwhelming" stuff, he does throw strikes and does not surrender "hard contact," according to one observer. Koch has walked only 16 batters in 140 professional innings.
• Because Las Vegas has Allan Dykstra and Brandon Allen also capable of playing first base, Josh Satin may end up playing more second base than he has of late. In two games since his demotion, Satin has started a game apiece at first base and second base. Outfield is not a priority, but there's a chance he could dabble there occasionally.
• Virgin Islands native Akeel Morris continues to dominate out of Savannah's bullpen. The 21-year-old right-hander is 3-0, has struck out 34 and has not allowed a run in 20 2/3 innings this season. Morris' team-high strikeout total leads runner-up John Gant by 3 Ks despite Morris tossing 15 fewer innings. Morris had mixed results as a starter earlier in his career, and is being given multi-inning outings out of the bullpen to allow for continued development. He still needs to throw more strikes, having walked 10, hit a batter and thrown two wild pitches.
• Binghamton catcher Kevin Plawecki has hit safely in a season-high nine straight games. He is batting .389 (14-for-36) during the stretch, with five multi-hit games.
• After posting a 9.64 ERA in his first three starts, right-hander Tyler Pill has a 1.15 ERA (2 ER, 15.2 IP) in his last three games. He's received the worst offensive support among Binghamton's starters (1.7 runs per game, including three shutout losses).