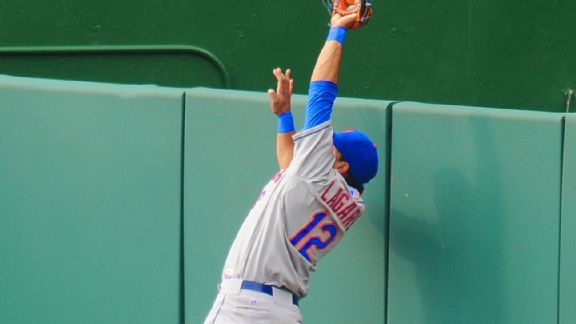 Mitchell Layton/Getty Images
Juan Lagares reaches over the center-field wall to take away a homer from Jayson Werth.WASHINGTON -- Yes, Twitterverse, Juan Lagares will start again Sunday, even if Terry Collins is not making any promises beyond that.
After three days out of the starting lineup, during which fans repeatedly tweeted the hashtag #freejuanlagares to bemoan his lack of playing time, Lagares had a dazzling return to center field in Saturday's 5-2 win against the Washington Nationals.
#12 CF
New York Mets
2014 STATS
GM

29

HR2

RBI14

R14

OBP.348

AVG

.304
Lagares became the first major-league player this season to both homer and take away a homer, according to ESPN Stats & Information's Mark Simon.
He finished 2-for-4 with three RBIs, including a two-run shot against left-hander Gio Gonzalez, as his average climbed to .304. Lagares also reached over the center-field wall to take away a solo homer from Jayson Werth, a day after Werth robbed Daniel Murphy of a potential game-tying three-run homer in the ninth.
"I didn't think that he had the ball, but when I saw the ball in his hand, I was pretty happy," Bartolo Colon said through an interpreter about Lagares' snag.
Said Eric Campbell: "I wasn't surprised, as probably any of you weren't. He does something like that every day. It's unbelievable. ... I've seen him do it probably 10 times now. As soon as I see a ball like that hit and I see Juan get a good first step, I know it's an out."
Collins, seemingly aware of the groundswell among observers clamoring for Lagares to play, plans to accommodate that wish again Sunday.
Asked if Lagares may now be the starter for a stretch, Collins said: "Well, he'll play tomorrow, if that's what you're asking."
Collins added about that inquiry: "Oh, I knew it was coming. Of course it's coming. He had a good game. That's great. That's why we put him in there today. It's a good scenario. I put him in against a left-handed pitcher. Gio is not easy to hit, but he's got a better chance to have some success against a lefty than he has been against righties. So I got him in there."
In recent days, Lagares worked with assistant hitting coach Luis Natera -- who also was his Double-A hitting coach -- on keeping his hands more still as he began his swing as a way to improve reaction time.
"I've been working hard to try to be more 'quiet,'" Lagares said. "Sometimes I move my hands too much. That's why I can't get to the ball. I missed a couple of fastballs. That's going to happen sometimes. We worked a lot on that."
Lagares said he handled the recent benching by staying positive and working hard.
"I know I can play," he said. "That's what I do. That's what I'm here for. It's like I said, I just want to come here ready to play."
As for the catch on Werth's shot, Lagares added: "I knew he hit it good. I just go like I always go -- hard -- and tried to make the catch. … I think it's just reaction -- go hard and try to make the catch."
Which does he like to do more: belt homers or take away homers?
"I like to do both," Lagares said.