NEW YORK -- Rafael Montero's minor-league career largely has been highlighted by impeccable control, including 1.6 walks per nine innings in his first professional season in 2011, then 1.4 per nine innings the following year. This season, however, the walks have soared, both at Las Vegas and now with the Mets.
That's come back to hurt him, too.
In his second major-league start, Montero walked the bases loaded in the second inning Tuesday and ultimately needed 97 pitches to navigate 4 1/3 innings as the Mets lost to the Los Angeles Dodgers, 9-4, at Citi Field. Montero has now walked six batters in 10 1/3 innings in starts against the Yankees and Dodgers.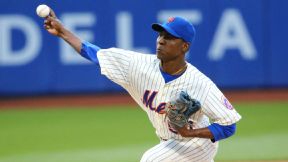 Anthony Gruppuso/USA TODAY Sports
Rafael Montero has struggled with control in two major-league starts.
"Hopefully it will get a little easier for him. Those are two pretty good lineups," David Wright said. "But the biggest thing with him is just the control, pounding the strike zone. Both times he's gotten his pitch count up early and not been able to pitch deep into the game. The important thing is just trusting your stuff and pounding the strike zone."
Said Terry Collins: "He fell behind a lot tonight. That's why he threw a lot of pitches."
Falling behind hurt Montero on a 2-0 pitch to Adrian Gonzalez. Gonzalez launched a slider from the rookie over the right-center wall for a tiebreaking two-run homer in what became a four-run fifth as L.A. grabbed a 5-1 lead.
"I tried to throw a slider," Montero said through an interpreter. "Unfortunately he found where to hit it."
Montero had walked 18 in 41 2/3 innings at Triple-A this season -- a career-high 3.9 walks-per-nine-innings rate.
"I'm not sure. I always try to throw strikes," Montero said when asked for an explanation. "I've continued to do what I've always done."
Montero's final line Tuesday: 4.1 IP, 7 H, 5 R, 5 ER, 4 BB, 4 K, 1 HR.
Montero or Jacob deGrom likely will lose a rotation spot when Dillon Gee returns from the disabled list.
"I don't really view it as a competition," Montero said. "I think it comes down to whatever decision the heads want to make. I just keep doing the same things that I always do."