NEW YORK -- Terry Collins got Eric Campbell's bat into the lineup Thursday by having the rookie start in left field.
Now, the manager is serious about using Campbell as a true utility player by having him see some action at second base and even shortstop.
"I'm going to play this guy in the middle of the infield one of these days, too, because if he can play there, he's got a chance to get a lot of at-bats," Collins said after the Mets' 5-3 win against the Los Angeles Dodgers. "Why not? If he's athletic enough to play there, we've got to find out. He played there in Vegas. He played second a lot of games. He played short twice. I'm not going to put him out there in the ninth -- but run him out there in a game that maybe is a little lopsided."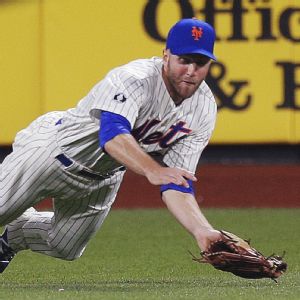 Julie Jacobson/Associated Press
Eric Campbell makes a stellar diving catch in left field in the eighth to initiate a double play.
Collins suggested the motivation is having a true National League bench, rather than players so limited that it restricts his maneuvering.
"I can tell you, in the last two or three years, we've been in a situation where we could not make a move because we had nobody to play a position that you've got to stick them in," Collins said. "That's why we've asked David [Wright] so many times to take groundballs at short."
Campbell is a natural third baseman who actually has received no shortage of exposure to first base, left field and right field in the minors.
Middle infield? That's an entirely different story. In seven minor-league seasons, Campbell has played 15 total games at second base -- with 13 coming this season with Las Vegas. His only two career games at shortstop came this season with the 51s.
"I can handle it," Campbell said. "I'm confident that I played enough second in Vegas this year where I'd be comfortable out there. Short, I haven't played a whole lot. But I'm sure it'd be fine. It's just fielding a groundball and throwing it to first."
Despite going 0-for-3, Campbell had important contributions Thursday, in his first career major-league start in the outfield. His second-inning sacrifice fly evened the score at 1. And his diving catch in left-center of Hanley Ramirez's sinking liner and throw to second base to double off Yasiel Puig in the eighth preserved a 4-3 lead.
"Off the bat I thought it was going to be a one-hopper," Campbell said. "So I was charging it hard, trying to make a play at the plate, because that's the tying run. I guess he hit it too well. It stayed up a little bit longer and I was able to get my glove under it."
As for the throw to second, Campbell knew he had Puig nailed.
"I saw him go on the crack of the bat," Campbell said.
Said Collins: "As it always goes, you put a guy in for his offense and his defense saves the game. That's always a sign that you were supposed to win that game."
Campbell, meanwhile, wants to be as versatile as possible, too. With Travis d'Arnaud sidelined with a concussion, Campbell worked with coach Bob Geren on catching technique.
"Never done it. That was only because Trav was out that day," Campbell said, referring to the day last week when the Mets played with no backup because d'Arnaud had not yet been placed on the concussion DL. "We'd be in trouble if I was behind there. In an emergency I can do it."