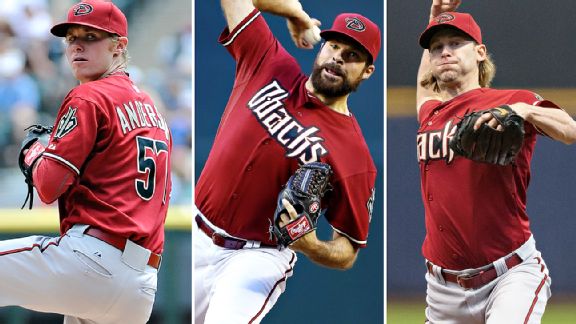 Getty Images
The Mets are due to face Chase Anderson, Josh Collmenter and Bronson Arroyo this weekend.METS (21-25, fourth place/NL East) vs. ARIZONA DIAMONDBACKS (18-31, fifth place/NL West)
Friday: RHP Bartolo Colon (3-5, 5.34) vs. RHP Chase Anderson (2-0, 5.06), 7:10 p.m. ET
Saturday: RHP Zack Wheeler (1-4, 4.53) vs. RHP Josh Collmenter (2-2, 4.02), 4:10 p.m. ET
Sunday: RHP Rafael Montero (0-2, 6.97) vs. RHP Bronson Arroyo (4-3, 4.45), 1:10 p.m. ET
Diamondbacks short hops
• Tony La Russa, who is due to be inducted into the Hall of Fame on July 27, was hired as the team's chief baseball officer last Saturday. He last was affiliated with a team in 2011, when he managed the St. Louis Cardinals to a World Series title. La Russa more recently worked with commissioner Bud Selig, including on implementing the new instant-replay and plate-collision guidelines. La Russa has final say on all baseball matters, which means longtime GM Kevin Towers has been stripped of considerable power.
Rick Scuteri/USA TODAY Sports
Tony La Russa has taken over as D-backs chief baseball officer.
"Until I really get more time to sit down with Tony to really find out structure, process, reporting and job responsibilities, I'm taking the high road and looking at this as hopefully a good thing for the organization," Towers told Arizona Sports 98.7 FM. "I certainly don't want to be a pseudo-GM. The front office role will be new to him, and I'm hoping I can help him in ways too, like with the daily calendar and what's important come June and July."
• Right-hander Chase Anderson's third major-league start comes against the Mets. He debuted May 11, limiting the Chicago White Sox to one run on two hits and a walk while striking out six in 5 1/3 innings. Bullpen coach Mel Stottlemyre Jr. told the Arizona Republic that Anderson has the best changeup in their system. The 26-year-old Anderson, a ninth-round pick in 2009 from the University of Oklahoma, had been 4-2 with a 0.69 ERA and 0.718 WHIP in six starts at Double-A Mobile. He logged only 205 1/3 innings from 2011 through '13 because of elbow troubles, which also prompted the organization to convert him to a reliever to close last season in Triple-A. Anderson had a 6.52 ERA in 13 relief appearances and reverted to starting this year.
• The Mets are seeing the reigning co-NL Players of the Week in consecutive series. Yasiel Puig has departed with the Los Angeles Dodgers, but fellow winner A.J. Pollock now arrives at Citi Field with the D-backs. Pollock, a center fielder, hit .500 (11-for-22) with two homers last week.
• Left fielder Mark Trumbo, who was acquired during the offseason from the Los Angeles Angels, has been sidelined since April 21 with a stress fracture in his left foot. Trumbo had been hitting .210 with seven homers and 19 RBIs in 81 at-bats. Righty-hitting Cody Ross primarily has played the position in Trumbo's absence, with lefty-hitting rookie Ender Inciarte also seeing some action in left field.
• Didi Gregorius, the expendable shortstop for the D-backs, is hitting .296 with three homers, 20 RBIs and a .386 on-base percentage in 186 at-bats with Triple-A Reno. Chris Owings, who beat out Gregorius for the D-backs' shortstop job, is hitting .275 with two homers and seven RBIs in 142 at-bats. Gregorius has appeared in 30 games at second base and 18 games at shortstop in the Pacific Coast League this season as the D-backs try to increase his versatility in case they retain him.
• Ex-Met Oliver Perez has a 1.26 ERA and 16 strikeouts in 14 1/3 innings over his past 15 appearances.
• First baseman Paul Goldschmidt's 33 RBIs rank fifth in the National League. His .315 average is 10th. Goldschmidt hit a 437-foot homer against Shaun Marcum last season at Citi Field.
• After opening the season in the bullpen, Josh Collmenter entered the rotation April 14 to face the Mets in Phoenix. He allowed three runs in four innings. Collmenter swapped roles with Randall Delgado, who had allowed nine runs in 7 1/3 innings over a pair of early season starts.
• Bronson Arroyo signed a two-year, $23.5 million contract with the D-backs on Feb. 7. The deal includes an $11 million team option for 2016 or $4.5 million buyout. Arroyo, 37, has reached the 200-inning plateau eight of the past nine years. The exception: 2011 with the Cincinnati Reds, when he was one inning shy. The Mets battered Arroyo for nine runs in 3 1/3 innings on April 15 at Chase Field. Kirk Nieuwenhuis delivered a two-run homer.
• Second baseman Aaron Hill returned Wednesday after missing three games with a sore shoulder.
• Third baseman Martin Prado departed Sunday's game with a blurry left eye, but was prescribed medicine and did not miss a start.