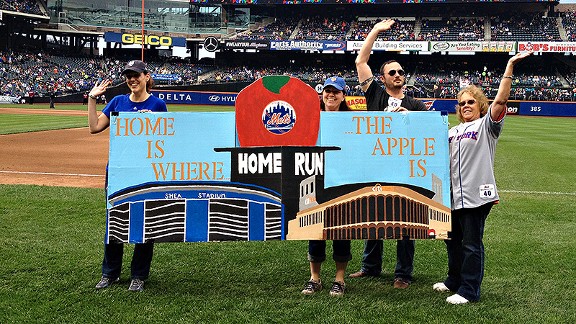 Courtesy of New York Mets
Kelly, Tim and Denise Betts of Farmingdale, Long Island, with Rebecca Waddington of Rockville, Md., won last year's Banner Day competition.NEW YORK
FIRST PITCH: It is going to be a long day at Citi Field thanks to Friday's rainout.
Rafael Montero (0-2, 6.97 ERA) makes his third major-league start when he opposes Arizona Diamondbacks right-hander Bronson Arroyo (4-3, 4.45) at 1:10 p.m. Sunday. The single-admission doubleheader then continues with Daisuke Matsuzaka (1-0, 2.14) opposing right-hander Zeke Spruill (2-1, 4.72 at Triple-A Reno) in Game 2.
Pregame, Dillon Gee plans to throw off a mound for the first time since landing on the disabled list on May 11 with a right lat-muscle strain.
Sunday also is Banner Day at Citi Field.
Sunday's news reports:
• Lucas Duda went 0-for-4 and stranded seven baserunners and the Diamondbacks beat the Mets, 3-2, Saturday. Zack Wheeler settled down after a rough beginning and limited Arizona to three runs (two earned) in 6 2/3 innings. David Wright homered and went 3-for-4. He has 33 hits in May, trailing only Yasiel Puig (35) in the National League.
Julie Jacobson/Associated Press
Zack Wheeler allowed two earned runs in 6 2/3 innings Saturday but was tagged with the loss.
Read game recaps in the Post, Daily News, Times, Star-Ledger, Record, Newsday and at MLB.com.
• Travis d'Arnaud, who suffered a concussion on May 13 at Yankee Stadium, will begin a rehab assignment Sunday with Binghamton. Read more at MLB.com.
• Vic Black joins the Mets on Sunday as a 26th man for the doubleheader. Black has a closer's arsenal but still walks too many batters, Terry Collins said. Read more in the Post and Star-Ledger.
• In honor of Banner Day, columnist George Willis in the Post comes up with banner messages that will not be permitted to be displayed. Among his ideas:
"The Best Mets hitter and pitcher are broadcasters."
"Who's on first? I don't know."
"Can Mr. Met play shortstop?"
"Sell the Mets to Donald Sterling."
• Columnist Anthony Rieber in Newsday explores whether the Mets are unwatchable.
• Tim Rohan in the Times profiles Eric Campbell. Writes Rohan:
Campbell's coach at Boston College, Mik Aoki, said he was a good teammate and a humble person, the type of player who could fit into any clubhouse. It was there that his teammates started calling him Soup. Aoki also liked his dry sense of humor, calling Campbell "a good, sarcastic Northeasterner."
Read more on Campbell in the Record.
• Mets staffers tell Marc Carig in Newsday that Citi Field has become a mental issue for the players. Writes Carig:
For some team officials, the ugly truth is that Citi Field again has gotten in the heads of their hitters. They are trying too hard -- swinging harder, pressing -- to conquer the park's dimensions.
"It gets to be more of a mental thing than it actually is physical," hitting coach Dave Hudgens said. "Because the swings get longer, you try to do a little bit more. It's more about us than it is anything else."
Manager Terry Collins said the cumulative effect sends a destructive message.
"Hey, I've got to swing harder to do damage here," Collins said. "The harder you swing, the less control of the barrel of the bat that you have, therefore the swing-and-misses are up."
• Carlos Torres is not a fan of how L.A.'s Puig conducts himself on a baseball field.
• Jimmy Smith in the New Orleans Times-Picayune reviews newly hired director of communications Harold Kaufman's résumé. Kaufman starts his new job with the Mets on June 23. Writes Smith:
During a quarter-century working in the NBA, Kaufman created a legacy of tutoring young assistants or interns who went onto become public relations chiefs for the Washington Wizards, Los Angeles Clippers and New York Knicks, while six others were in similar positions with other teams in the league including the Lakers, Atlanta Hawks, Charlotte Bobcats (now Hornets), Dallas Mavericks, Denver Nuggets and Pelicans.
Kaufman's first professional position came with the Texas Rangers while he also worked in the sports information department at his alma mater, SMU. He joined the Mavericks before joining the expansion Hornets in Charlotte in 1988.
During his career, Kaufman also helped manage the basketball venue at the 1996 Centennial Olympic Games in Atlanta, while working several NBA All-Star Games. He was a member of the Super Bowl XLVII public relations host committee.
• Kevin Plawecki homered for the third straight game and reached base all five plate appearances as Binghamton beat New Britain, 8-6. Cam Maron went 4-for-5 with four RBIs as St. Lucie beat Palm Beach, 5-2. John Gant tossed seven scoreless innings and Akeel Morris' scoreless streak to open the season ended at 24 1/3 innings as Savannah beat Lexington, 5-1. Read the full minor-league recap here.
• Jim Baumbach in Newsday explores Bartolo Colon's gopher-ball problem. (Spoiler: Location, location, location.) Colon has surrendered nine homers in nine starts. It would have been at least 10 homers in 10 starts had Friday's game -- and its stats -- not been washed away.
• From the bloggers ... Faith and Fear glosses over Wheeler's 118 pitches and concentrates on the one Don Draper will unleash tonight on "Mad Men."
BIRTHDAYS: Eric Young Jr. turns 29. ... Scott Hairston is 34. ... Chris Young -- the pitcher, not the current Mets outfielder -- is 35.
TWEETS OF THE DAY:
Adam Rubin has been declining like Wright and Reyes this year...

— Dave (@troonooyawker) May 24, 2014
YOU'RE UP: Should Vic Black remain with the club after the doubleheader or return to Triple-A?