AP Photo/Jack Dempsey
Zack Wheeler has not made the jump to elite pitcher, but he hasn't been as bad as his numbers either.
Zack Wheeler is having a disappointing season as far as results go, with a 1-5 record and 4.63 ERA, following his 7-5, 3.42 17-start debut in 2013.
But in terms of actual pitching, you could make the case that Wheeler has pitched better (or at least about the same) as last season.
What do we mean by that? His strikeout rate is up from 7.6 per nine innings to 8.5, and his walk rate is about the same (a still-high 4.3 per nine innings). He's allowing home runs at a rate of one every 14 innings, as opposed to the one every 10 innings last season. His ground-ball rate is up, with grounders and bunts accounting for 55 percent of his balls in play (up from 43 percent last season). His average fastball velocity has held steady at 94 mph.
The various ERA-estimating tools at sites such as Fangraphs.com peg Wheeler as someone who should have an ERA a run lower than his actual ERA.
In fact, Wheeler and Bartolo Colon are two of eight pitchers, whose ERA differs from his FIP (an abbreviation for an ERA estimator based on strikeouts, walks and homers allowed) by at least one run (Wheeler's FIP is 3.63).
What's gone wrong for Wheeler this season? A few things.
The defense hasn't done its job
Most pitchers who increase their ground-ball rate will see their numbers improve. But the Mets struggles with their infield defense have been an issue for Wheeler.
The Mets turned 81 percent of his ground balls into outs last season, but only 63 percent in 2014. We have a tool that rates batted balls as hard, medium and soft. Wheeler got outs on 76 of 83 soft grounders last season (92 percent). This season, it's only gotten outs on 44 of 61 (72 percent) with four errors contributing to the difficulties.
The Mets outfield defense leads the majors with 29 Defensive Runs Saved, but their infield is at -4 Defensive Runs Saved.
Left behind
Left-handed hitters are hitting .329 with a .915 OPS against Wheeler this season, after being at .259 and .766 in 2013.
Highest Opponents BA
vs Left-Handed Hitters (2014)
Lefties have shredded Wheeler a few times, most notably in two starts against the Braves, in which eight of 14 have reached base, and on May 13 against the Yankees, when he allowed six hits and five walks to the 18 he faced.
Wheeler has been unable to get lefties to chase bad pitches as often as he did last season. His chase rate against them has dropped from 25 percent in 2013 to 18 percent in 2014.
RISPy business
The most commonly cited issue for Wheeler has been the difference in his results with runners in scoring position, as noted in the chart on the right.
Opponents vs Wheeler
With Runners in Scoring Position
Although the Mets defense hasn't helped Wheeler, he could stand to help himself a little bit more as well.
Wheeler was known for escaping trouble with the strikeout. He whiffed 29 of 111 hitters with runners in scoring position last season, but only 11 of 70 in 2014.
The high fastball was a key to this, with Wheeler able to throw it past opposing hitters regularly.
But that pitch hasn't been there for Wheeler as often. Here's where he's thrown fastballs most often in trouble spots in 2013.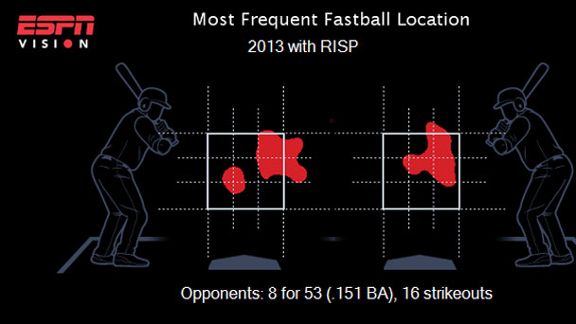 And here's where he's thrown them in 2014, to considerably worse results (particularly note the difference in where he's thrown them to lefties).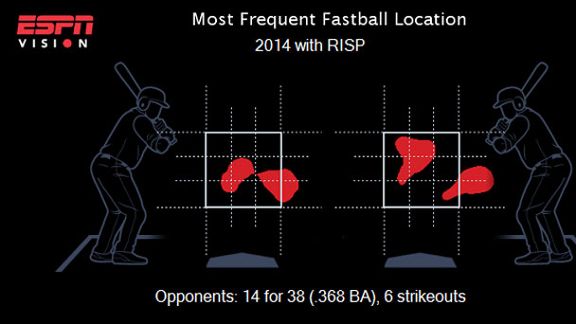 We'll see if Wheeler gets back to using this pitch as a weapon to get outs moving forward.
Looking ahead
The good news for Wheeler is that ESPN's primary projection system thinks he'll fare better the rest of the way. Dan Szymborski's ZiPS gives him a 3.68 ERA over his next 21 starts, producing a final 2014 ERA of 4.00.
That's not quite the jump Mets fans were looking for, but at least they can take comfort in knowing that the future for Wheeler still looks to be alright.